Alice Waters Teams Up With Children To Design Obesity-Fighting Menu At The Hyatt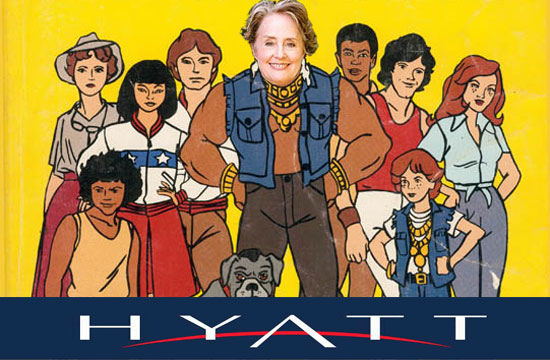 In what seems like a team-up straight out of an 80's cartoon, Alice Waters has joined forces with a group of adorable 11-year-old children to design a healthy kids' menu for the Hyatt hotels. (Well, really, they designed two separate menus,  but we'd like to think of her as working with them a la Mr. T.)
The hotel (which we imagine as a giant, floating holograph head) brought Waters on board to design an appealing, healthy children's menu, as part of its plan to promote healthy lifestyles and sustainability, and particularly to fight childhood obesity.
A group of kids, led by the young, plucky and adorable Internet cooking show host Haile Thomas, designed their own menu "For Kids By Kids" (awwwww), while Waters fashioned power rings harnessed from the energy of the Earth designed a supplemental three-course menu. And what did Hyatt learn? That "kids today have a greater level of sophistication in their taste preferences, but also enjoy items with which they can interact." That's why they designed a menu that kids can play with, like "customizing their own pasta dish and 'shaking' their own salad." (McDonald's totally did that already, guys.)
Of course, the second, complementary three-course meal wouldn't be an Alice Waters-designed meal if she didn't explain it using a copy of Organic Buzzword Bingo. "I wanted to do a small, three course meal, within the context of Hyatt's initiative, that could be sourced exclusively from organic farms across the country," she explained in a press release. "Of course it's about taste and ripeness and seasonality — but it's bigger than that, too: it's about supporting the people who are taking care of the land for our future generations." (BINGO! I'VE GOT BINGO!)
Kids menu items include "Waffle Dipping Sticks," "Top Your Own Tacos," and "Build Your Own Subs," while Waters's menu feature whimsical items like "carrot curls" and "Strawberry and Orange Slices served with a Sweet Juice in a Real Orange Cup." No word if Waters designed a groovy plate setting with cartoon characters on it.
Have a tip we should know? tips@mediaite.com