Allison Robicelli Slams 'Morbid and Tasteless' Food Media for Hoping Cupcakes Die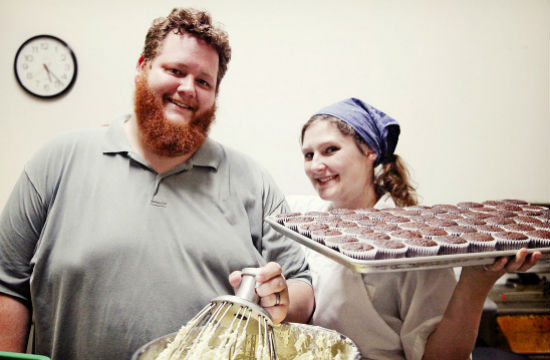 It's easy — nay, almost reflexive — for food journalists to celebrate the shuttering of nationwide cupcake chain Crumbs. However, Allison Robicelli, one-half of the Robicelli's Bakery team, has some serious problems with the way that the media deals with cupcakes. And to that, she has penned a fantastic apologia of the dessert, defending why it deserves a respected place in the pastry industry.
"I have no issue with cupcakes," she writes in First We Feast. "I've outlined countless times in the media on why they're great, why people love them, and why people continue to buy them over all the other stuff we make.
"What I have an issue with is bad journalism. And there's a ton of it that goes around in the anti-cupcake circuit. Factual errors, lack of research…seriously, one more person mentions Sex and the City, they're getting punched in the dick. "
In our defense, we actually are not fans of the Crumbs chain, specifically. (Those are not cupcakes. Those were bowl-cakes.) But it's the idea that All Pastries Must Be Trends that, according to Robicelli, is the worst sin of food journalism:
We're tired of being perpetually asked when we're coming up with 'the next cronut' or 'the new cupcake.' It's ridiculous, and it's a question everyone in pastry is being asked. In the past 6 years, we've gone from the next cupcake being donuts, to pie, to macarons, to macaroons, to ice cream sandwiches, back to donuts, to cronuts, to biscuits.

We're not being asked to make good food—we're being asked to churn out gimmicks. Which makes the rash of cupcake hatred all the more ironic."
Read the rest of her takedown below.
Have a tip we should know? tips@mediaite.com