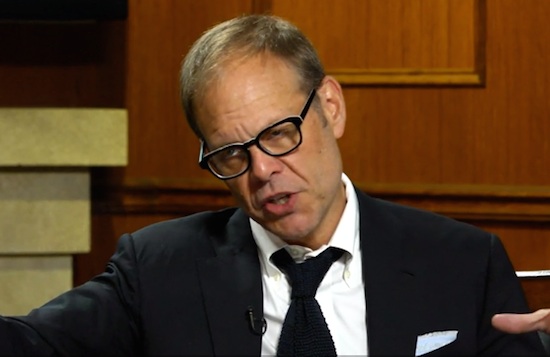 Granted, our jobs don't require something like 600 pages of research, so we'd be tired too. But there's also just a slight dig at food TV today — and Alton Brown wasn't having it.
In an interview with Larry King, Brown really took the time to explain why the much-loved Food Network show, Good Eats, would never return to the airwaves. It's still a shock to see such a smart food show off the air, but Brown said that education was never the goal — it was entertainment. There was a sign above the studio door that said "laughing brains are more absorbant," Brown told King. But really, how to end a show like Good Eats? The "foodist" told King that it was part exhaustion, part reality:
I crossed the 250 episode line, and I realized that I was tired. It was a very stressful show to make; it was completely scripted, we did between 300 and 600 pages of research. I can only 22 a year, because they were very involved. We shot them like movies, single-camera … I crossed that line, and I also kind of saw the writing on the wall, I think, which was that the era of the instructional or educational culinary show was frankly coming to an end in primetime. I think I saw that primetime food shows were going to go to competitions and reality. … I would have rather put it out to pasture that be cancelled.
Welp, that will do it.
More adorably, he also told King that the only reason he started cooking was to get girls in college. Fair enough, it works on us. "I don't know if there's a way to a woman's heart," he said. "I have yet to find it. But I do know that her stomach is heart adjacent." Well said.
[Larry King Now h/t Eater]
RELATED: WATCH: Alton Brown Demos the Simple Way And The Bloody Way to Slice A Mango
Breakfast Links: Alton Brown's So Fancy, You Already Know
WATCH: Aw Yeah, Alton Brown Started A Web Cooking Show
Have a tip we should know? tips@mediaite.com