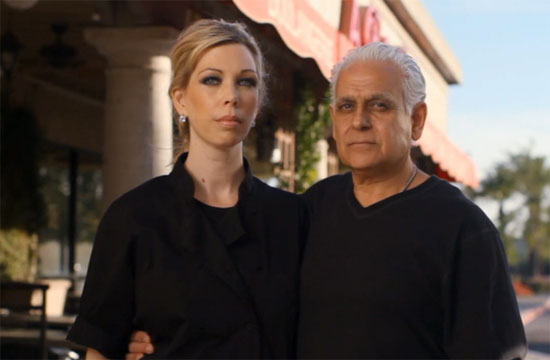 Well, it's clear that Amy and Samy Buzaglo know how to make their 15 minutes of fame stretch, and stretch, and stretch into infinite space. Because that new reality show featuring Amy's Baking Company is still happening — and yet the Buzaglos are still bemoaning the fact that they became reviled and that the restaurant "became a tourist attraction." Your life has become a tourist attraction, you guys — so don't bite the hand that feeds.
Yes, this new interview with the Buzaglos and Arizona's FOX 10 News is just all sorts of weird. The interviewer expects them to be full-blown crazy, and finds out that they're only slightly crazy. And though they still hate the Internet, and Reddit, and hackers, they do love the opportunity to prove the world wrong on their new show:
"We can teach you how to make amazing cakes and how to work in the kitchen and be wild and our kitty cats." [editor's note: WHAT.]

"We have to go out in a blaze of glory and show people how we will roar! You will hear us roar 'cause we fell down, we're gonna pull ourselves up. We went from zero to our own heroes. We have to show everybody the real us. That's why we agreed to do a reality show."

Together, they just may be the perfect recipe for reality television.

"Every pot has its lid and Samy is the pot and I am the lid."
The lid, you say? We'll believe it when we see it, we guess.
[FOX]
RELATED:
WATCH: Amy Bouzaglo Accuses Waitress Of Lying, Brings Video That Proves Otherwise
Look At This Insane Contract Amy's Baking Company Made Their Employees Sign
Warm Up Your Surprised Face: Amy's Baking Company Reportedly In Talks For Reality TV Show
Have a tip we should know? tips@mediaite.com