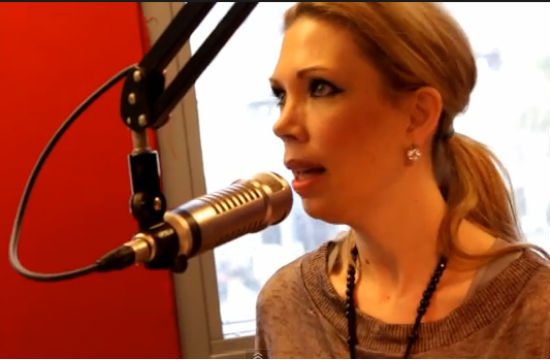 Amy's Baking Co. owners Amy and Samy Bouzaglo sat down with Phoenix radio station My103.9 to hash out their side of what is now everyone's own personal Kitchen Nightmare in no less than a seven-part interview, which has all been conveniently uploaded to YouTube. If the DJ interviewing Amy and Samy sounds familiar, that's because she's none other than Monti, of MasterChef Season 3 fame.
The couple claims that they didn't require the assistance of the show, but rather that they were nominated by the Yelp community as a struggling restaurant in the area to be on it. The only reason they agreed was to highlight the problem of online bullying (Yelp = bullies, in this carefully constructed delusion).
"Before the Yelp we were good," Samy insisted.
Sure enough, the guilty Yelpers showed up to the restaurant while Kitchen Nightmares was filming, and they are allegedly the people Amy and Samy lost their shit on in the middle of filming. Says Amy:
"I started to notice a few people come in the restaurant that looked familiar to me. And as I saw how things were going, and how out of control it was getting, I told my husband, I grabbed the producers in the middle of filming, I said, 'They are Yelpers. I know two of them for sure are. I have their names and their profiles right here.' And that's exactly what happened. My husband and I started to feel that we were being surrounded by Yelpers, completely set up, we didn't feel that we were going to have a true, authentic way to show our product. And we were right. The people that were there — the people that we are screaming at — they are not our customers. They are Yelpers…My husband and I said, 'Wait a minute, we are not comfortable. You are endangering our lives."
Yelpers also = terrorists/serial killers in this delusion.
As for the store-bought pasta controversy: they claim they were caught off-guard by production and weren't given time to prep.
And the tip-stealing controversy: "We don't even have servers…we have bussers and runners and those people are paid anywhere from eight to $14 an hour…Samy takes the orders."
Right, but what about that girl who took orders, earned tips (basically performing the job of a waitress), and from whom you then took those tips? Replied Samy:
"Taking orders? She took one table, I took five, six at once. I say, 'You take the orders, bring me the ticket and I will send it through the POS system,' because she didn't know how to do it. And if she knew how to do it, it will be mess. Because I'm the only one who knows how to communicate with my wife through the computer, how to send the orders through the tables from the appetizers. The others, they don't know."
He announces that they'd be happy to hire more waitstaff, and offers five dollars an hour, plus tips: "But they have to do their jobs, not watch me, how I run by myself."
Promptly after this interview was released, and on the day of Amy and Samy's scheduled press conference celebrating their "grand reopening", Fox issued a cease-and-desist letter, citing the NDA they signed prohibiting them from speaking about the episode to anyone. Soon after the letter arrived, that PR company that Amy's Baking Co. hired to do damage control dropped them. We'd cross our fingers and hope against hope that this means the story is finally dead, but their grand reopening is still on for tonight, and so we see no end to our torture.
When asked how the restaurant will be different following the grand reopening, Samy replied, "Nothing. It will be the same."
You can check out the interview's seven parts below (the end of each video features a link to the next segment).
[h/t Eater]
Have a tip we should know? tips@mediaite.com