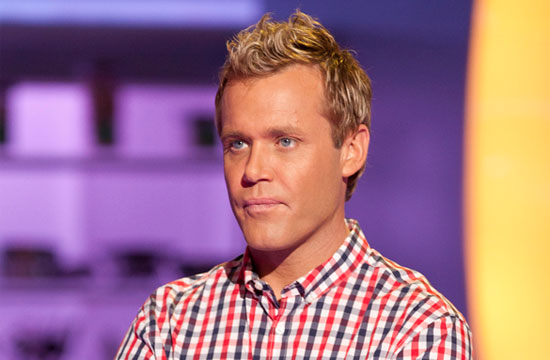 Wise words flew out of the mouth of Andrew Zimmern this week on his Go Fork Yourself! podcast, in which he and Molly Mogren discuss their time at the Austin Wine & Food Festival last weekend — the food they ate, the beverages they drank, the people they ran into and interviewed — when the topic of Zimmern's "best friend Brian Malarkey" came up.
Record scratch noise. Brian Malarkey is Andrew Zimmern's best friend? Do you kid us, sir?
"No, Brian Malarkey is not my best friend," he clarified seconds later. "Here is my opinion on Brian Malarkey, because everyone is very confused." We sure are, please continue.
Here is their dialogue in full so that you may make an informed decision:
Andrew Zimmern: I am just always suspicious of men who Botox.

Molly Mogren: Now are you sure that's not just his face?

AZ: Here's the deal: that's just like someone who looks at Kim Kardashian's ass and says that it's all natural.

MM: I mean, maybe it is.

AZ: Just Google — I mean, you watched The Taste, didn't you?

MM: Like, two episodes.

AZ: I think it's Botox, lip plumpers — Brian, you're doing something. Something's going on there.

MM: There is something, like, the weird, pre-historic part of my brain.

AZ: Ask me if I'm against that.

MM: …are you against that?

AZ: ABSOLUTELY NOT! I do lots of things to make myself artificially look good, sound good, smell good — we do it all the time!

MM: You do?

AZ: Sure I do. It's called moisturizer. But we do it all the time. It's just that there are different grades of it. You know who I have a problem with? People who say "No, I don't [use Botox]." Argh. You just can't convince me otherwise.
And as a final note, Zimmern has some other critiques: "Put on some socks. Unroll your pants…it's just so self-conscious." Ugh, Zimmern. Why do your beauty standards have to be so prejudicial against Malibu?
Have a tip we should know? tips@mediaite.com