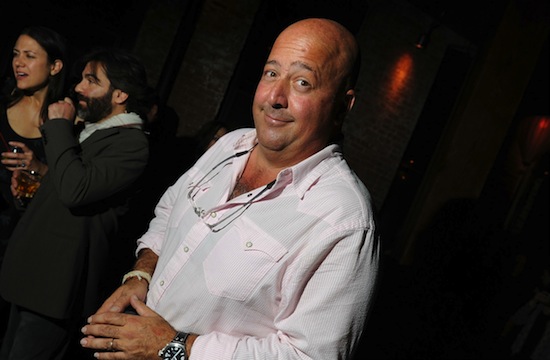 In this week's podcast of Andrew Zimmern's Go Fork Yourself, if we learned anything, it's to not stalk AZ in a parking lot while he's with his kid. For that, he will literally run you over. As he says, it's a child safety issue at that point. It might also be a felony (at least), but we'll overlook that.
Other things not to do to Zimmern: "the nudge" (also while he's with he's with his kid), which could get you a taze. Also, asking one of his two most irritating questions: "What's the most bizarre thing you've ever eaten?" or something along the lines of, "Hey, no bugs in this kitchen, huh?"
Okay, we'll give you the taze on that one.
Zimmern and his podcast pal Molly Mogren then discussed the Art of the Burger, which coincides with the thick of summer — because it's waaay too early to already be asking yourself where the summer went.
They methodically explained the nature of each part of the burger: meat, cheese, bun, toppings.
If you happen to grind your own meats, Zimmern recommends somewhere around 80-20 meat-to-fat ratio, and he prefers pan seared to grilled, which might negate the whole summertime grilling thing. But if you find yourself with a grill, make sure to put the coals on one side, as to not get the blackened char that is so often the grilled burger.
Find out all of Zimmern's burger recs (he totally, objectively thinks his Canteen food truck burger is the best), as well his favorite ice cream spots around the US, here.
Have a tip we should know? tips@mediaite.com