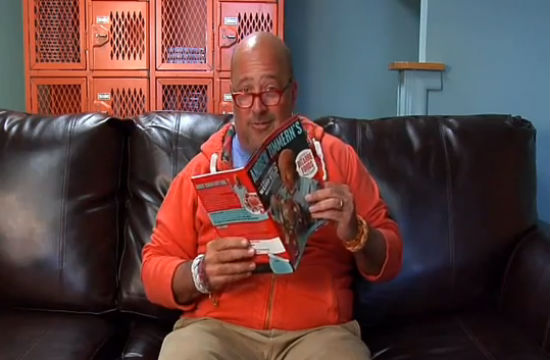 Andrew Zimmern was your classic 9-year-old nerd: obsessed with Guinness World Record Books, old encyclopedias, and ancient Egypt. Throw in coming home from school every day to watch Ripley's: Believe It Or Not, and you have our significantly more recent childhood in a nutshell. So, as a wildly successful Adult Person with a son of his own, he's decided to publish his very own "field guide." Now available for pre-order on Amazon: Andrew Zimmern's Field Guide to Exceptionally Weird, Wild, and Wonderful Foods: An Intrepid Eater's Digest.
Now, it would appear that he's pushing it as a children's book, based on its description on his website:
Don't like broccoli? Well, what if you were served up a plate of brains instead? From alligator meat to wildebeest, this digest of my most memorable weird, wild and wonderful foods will fascinate and delight eaters of all ages. If we can tell tales, we begin to solve our biggest problem: practicing contempt prior to investigation. That's a fancy way to think about what happens when you tell your mom or dad you don't like a food when you haven't even tried it. And when we tackle that issue together, we begin to grow a patience, tolerance and an understanding that will change our world for the better…and that's pretty darn cool.
But having the word "Intrepid" in the title and challenging kids to change their habits of "practicing contempt before investigation" seems like asking a lot. But hey, if not AZ to ask a lot in an effort to push children forward into greatness, then who? (Besides the writers of Modern Family.)
The book comes with such glowing praises from Zimmern's BFF Anthony Bourdain as:
"Along with the enlightenment that comes with realizing not everyone eats like us, adults will be alternately fascinated and horrified by his latest. But children will be mesmerized — and I'm quite sure — intrigued. This will be Andrew's lasting legacy, planting the notion in minds young and old that 'that might not be too bad. I think I'll try that!'"
Oh look! Here's a book trailer:
Cue your four year old requesting uni for dinner. Break out the protective gloves, parents. Andrew Zimmern's Field Guide to Exceptionally Weird, Wild, and Wonderful Foods: An Intrepid Eater's Digest hits shelves October 30th, just in time for Halloween!
Have a tip we should know? tips@mediaite.com