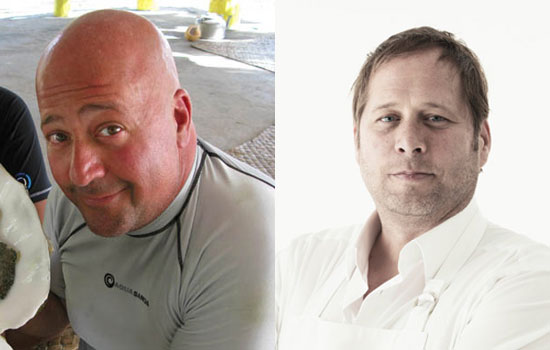 This week marked the first birthday of the Go Fork Yourself! podcast, hosted by Andrew Zimmern and his faithful companion Molly Mogren, and they wasted no time in getting down to business. Specifically, in between a rundown of Cool Things That He Gets To Eat And Normals Don't, Zimmern (calling in from Los Angeles) made an enormous pronouncement: David Kinch of Los Gatos's Manresa had served him the 'most exciting food' he'd had in recent years.
Manresa itself, which he visited while filming a segment for his web series Appetite For Life, was "easily one of the most impressive restaurants [he'd] been to in a long time," Zimmern proclaimed, and went on:
They're churning their own butter there, and scraping the sweet, sugary enzyme off the top of the lid, [and] they save it to glaze this bread, made-to-order according to the seating chart. This is a two-star Michelin restaurant…Having eaten in all the other super-duper fancy restaurants in America — I've eaten with [Daniel] Boulud and [David] Bouley, with [Thomas] Keller, [Grant] Achatz's place — you name it, I've eaten there. I am telling you now, the most exciting food in America might be cooked at Manresa. The food is unbelievable.
He goes on to describe how Kinch actually owns a particular cow, whose high-fat milk is traditionally used in French cheesemaking, which produces the milk specifically for their butter. Zimmern, you may just be the classy version of this woman right here. And now we want to steal David Kinch's cows.
Have a tip we should know? [email protected]