Andrew Zimmern Talks New Season Of Bizarre Foods, Top Chef: NOLA, And Our 'Gotcha' Culture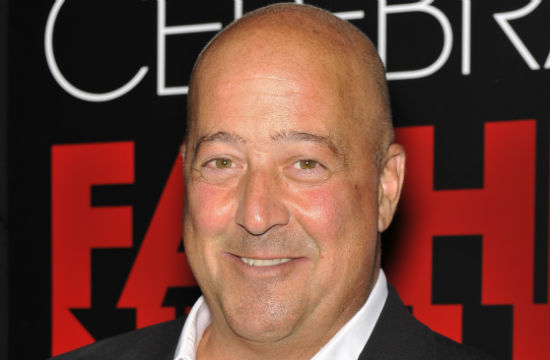 We managed to snag a chat with Andrew Zimmern in anticipation of tonight's Bizarre Foods: America season four premiere, and he dutifully provided a healthy scoopful of what to expect this season. Of course, we took the chance to hear his take on the Top Chef: New Orleans/BP blood money scandal, his deft handling of Twitter haters, and our out-of-hand, predatory social/media "gotcha" culture. (Whatever could he be talking about?)
Check out our Q&A below for more, including info on this season's Bizarre Foods episode comin' straight outta Compton.  (You are now about to witness the strength of street knowledge.) (We couldn't help ourselves.)
The Braiser: Okay, let's talk about the new season of Bizarre Foods: America. What are you excited about? What do we have to look forward to?
Andrew Zimmern: Oh, gosh. Well, at this point we have gotten so good at storytelling, and I think that we are about able to both explore cities that people really don't explore with their mouth first, like Houston, or St. Louis, or Providence, and then we've also found ways to tell stories that have never been told about cities that everyone goes and does TV in, like New York and Los Angeles, which is the premiere, and like, Hawaii. In the Hawaii show, we take people behind the scenes in a village [where] the villagers still fish the way their ancestors did thousands of years ago. Some photography is just going to boggle people's minds. In Los Angeles, some of the stories I shot in Compton, that — I'm just going to go out on a limb here — most food travel television shows do their best to avoid.
Compton!
Yeah, it's so, so cool. Our LA show is really about hidden neighborhoods. You know, I'm not the first person to take boats to Long Beach and explore the Cambodian neighborhood there, but I am sure I'm the first one to go to a backyard barbecue with kids and their parents cooking grandmother food in an attempt to reclaim their heritage. It's a really great show.
The one I'm probably most excited about is the Queens show [airing on July 22nd]. Queens on its own is the tenth largest city in America, I think. With 100 different ethnic groups there, almost no "tablecloth" scene, so to speak. You end up with the single greatest ethnic food city — and I'm calling it its own city on purpose — on the planet. I've never seen anything like it. But what makes it great, from a culinary standpoint, is that all those people are cooking for their friends, neighbors and family. They're not cooking for people like, you and me who show up to visit. So it really is extraordinary to tell a show like that. Building a show like that is something I really like to do.
I'm biased, but it really is a great season.
Can you talk a little bit about the dichotomy on the show of finding bizarre American foods versus finding bizarre ethnic foods in America?
Unless you're eating buffalo, rolling a pumpkin into a fire and letting it roast, or a handful of traditional foods of America's first peoples, then you're talking about food from elsewhere. The most popular food in America are hot dogs, hamburgers, and pizza, none of which came here with the pilgrims.
Also none of which are considered bizarre.
Right, but I don't even know what American food is. This is a nation of immigrants. The best of America is our melting-pot culture and I think the most fascinating of stories about culture in America, if we agree we are a nation built on immigrants and adopted immigrant cultures that can morph into American things, then exploring the ethnic experience in America is the best way to talk about what is America. I think those things to be true.
In our show, we are able to show techniques, and conclaves, and people who may have a different hair color, or skin color, or who speak a different language than we do, but who have a uniquely American experience. I remember one of the great moments in the history of our show was when, I think two seasons ago, we went into a family house in Dearborn, Michigan. I believe they were Lebanese. The grandfather spoke no English, the parents spoke English and Arabic fluently in the home, and while the women are in the kitchen cooking, the men were sitting around watching the football game, while the kids were in the back playing soccer around a kidney-shaped swimming pool. We were there for [the breaking of] one of the Ramadan fasts. If you had taken away the burkas and the Arabic you could hear being chatted in some corners of the living room, it looked like the Brady Brunch eating dinner. I think it's that melding of cultures, that — number one — makes America great, and — number two — makes for the best stories. Most importantly, it educates most of our viewers worldwide about what the American experience looks like.
So you're having fun shooting the show domestically, as opposed to the international travels you're used to? You're not bored?
No I'm not. Our American season is absolutely fascinating, the stories are great. My big problem when we were exclusively overseas what that we were only given permission to do one or two shows domestically. Those shows ended up having great ratings. They were great stories. And, as someone who criss-crosses this country all the time — family station wagon vacations, friends' weddings, going around with my buddies, talk shows or speaking gigs — I was seeing we were missing some amazing stories. I kept asking, 'Why can't we do more American stories?'
There came a time in the history of programming that a lot of networks were all seeing the same signs. America, which goes through phases by the way, was coming out of a phase where we were looking beyond our shores, to where we were obsessed with looking within ourselves. Alex de Tocqueville wrote when he visited in the 18th century about how Americans were obsessed with themselves, and we are still that way. We love seeing pictures and images of our own communities. So we decided to focus on that for a couple of years and it's been very successful. I love the shows; fans love the shows.
This coming season that we're shooting right now — not the one that's airing this summer — we go back overseas, it's a mix.
Nice! Can we talk a little about the Top Chef: New Orleans BP blood money scandal? I know you're a big champion of New Orleans. I assume you're familiar with what happened…
I am. Just so I get it right, this is when some of the money that went from BP's pocketbook and into Louisiana's pocketbook was used as an enticement to get one of my favorite TV shows to be there in the city, right?
Correct, and as far as everyone can tell, Bravo is pocketing that money, instead of — as some have suggested — reinvesting it back into New Orleans, and there is some backlash surrounding that.
Well, here's the thing: I have a friend making $150 to $250 million movies in Hollywood. I talk to him all the time about why he films where. And the reason is that a lot of towns are using money to attract TV and movies there. The payoff for New Orleans may not be translatable in terms of 'Oh this money is going to a school program, rebuilding this city block, etc.' but I think that the position the city of New Orleans, and by extension the state of Louisiana, has is that this is a smart investment that will pay off. I think there are 18 episodes, so it's a long season. Every episode is a love letter to the city of New Orleans. I think it'll stimulate a lot of excitement and interests. We see lots of New Orleans' best chefs, markets, restaurateurs, fields and streams, everything represented on TV. I think the intersection of public dollars and private enterprise is an fascinating subject.
I talk about it all the time with food programs that see federal and state dollars that can be doing a better job. Something like prisons, public schools, senior homes. It's a fascinating way to explore civics. I don't think there is a right or wrong answer, I'm not trying to hedge. I think the responsibility lies with the civic discourse around it. I think probably the biggest problem wasn't educating and saying, 'Hey, here's what we are doing and why.' There is a very good argument to be made that the money was very well-spent to make sure that for 21 night this fall, the entire world sees how fantastic New Orleans is. New Orleans is back. I mean, $200,000 doesn't even buy you very much commercial time buried in someone else's show.
I've seen every episode of every Top Chef ever made, it's one of my favorite shows. They do a lot of product placement, but they also do a lot of the more subtle con-work, like with the oyster shucking in the Quick-fire, saying, 'Hey, the folks from Louisiana Seafood have brought us four kinds of oysters.' That is better advertising for telling people the Gulf is back, in terms of seafood, than any ad in any food magazine could ever achieve.
Like so many things in our world these days, it's not the fact that money was given, it's how it was communicated. We are sadly living in an era of 'gotcha.' I was watching the hockey playoffs the other night, and I love Twitter — I was tweeting some of my feelings, and someone sent me back a question: 'Hey, what are your top Stanley Cup moments ever?' There was a hashtag, 'original six.' There were originally six teams in the NHL and the two that were playing this year were two of those six. So I answered with a couple different options for my favorite hockey series, and I got about 1,000 'Gotcha' responses back saying that those weren't Original Six teams.
There are all these people waiting on the sidelines to say, 'Gotcha!' It's so annoying.
Speaking of the 'Gotcha' people, I got a kick out of a response to something you said yesterday. You had tweeted something in support of SCOTUS striking down DOMA and someone responded, 'I thought you were straight,' and you were like, 'I don't see what that has to do with anything…'
Right! I don't see what that has to do with anything. I remember the last time I was reading The Braiser, and a handful of other food sites, all they were talking about was how amazingly hot my wife looked at the James Beard Awards. I think I'm publicly very straight. I have a lot of family and friends, and everybody else does, too, who come in all shapes and sizes, colors, religions, and sexual preferences. And I preach in my show — you and I have talked about this — all we do is talk about the things that separate us and we need to be talking about the things that unite us. I don't want to talk about the politics of it. I want to celebrate the civic discourse of the success of a movement that says you can choose to love whoever you want to love. It's ludicrous. That was a very difficult piece of 'Gotcha' bullshit.
Well, I thought you handled it well.
Those things are always odd, because you end up pissing off a lot of people. The people who are pissed off can just choose to un-follow me, I couldn't care less.
I know you guys are busy analyzing everybody's Twitter feed, but if I tweet something like with the SCOTUS decision, I get about a hundred tweets from people saying, 'I just want you to tweet about food, shut up about politics.' And it's like, screw you! We're all citizens of the world, and all politics are local, and if you're not engaged in those types of things, then you are living a shallow life.
Sport celebrities get to talk about food. Food celebrities get to talk about movies. Movie stars get to talk about adoption. Adoptive parents get to talk about movies. You know, it just drives me crazy.
That's a big part of what The Braiser was founded upon. The idea of taking chefs out of context, and getting them to talk about other things, and then maybe how those other things come to affect the food sphere, and how that, in and of itself, is far more fascinating than a recipe shill or a food show.
Exactly. If people only want to hear me talk about food and travel, watch my Travel Channel show. I don't talk about politics. I don't [talk] about religion. I don't [talk about] sexuality or the Supreme Court. But if you're following my Twitter feed, that's my Twitter feed.
Tune into Travel Channel tonight at 9pm ET for the Andrew Zimmern's Season Premiere of Bizarre Foods: America.
[This interview has been edited and condensed.]
RELATED:
UPDATE: Treme Creator David Simon & Andy Cohen Trade Barbs Over BP's Top Chef Money
Why The Treme/Top Chef Tax Break Debate Is Irrelevant, And Louisiana Still Loses
'This Is Awkward' And More Celebrity Chef-isms From The James Beard Red Carpet
Have a tip we should know? [email protected]