WATCH: Andrew Zimmern Talks Paula Deen Finishing Butter On HuffPost Live, Keeps It Classy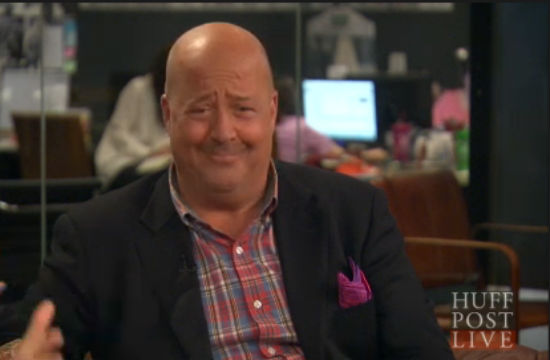 Andrew Zimmern joined Caitlyn Becker for a satisfyingly broad HuffPost Live segment, spanning everything from the new season of Bizarre Foods: America premiering later this summer, to Andrew's charitable projects, to his best advice for home cooks, to a great rant about the state of food TV and centralized farming, to the kicker closing question: how does he feel about Paula Deen's new line of "finishing butter", and do celebrity chefs have a responsibility to maintaining the health of their audiences. After making a series of increasingly uncomfortable faces, Zimmern finally got his wits about him and composed a polite answer, only half-side-stepping the Deen nugget. Said AZ:
"I always get into a lot of trouble talking about people that I work with, and we're teammates at Scripps. But I'll speak generally, and not about Paula, my opinions about all that kind of stuff is well-documented…Now when it comes to choices that are clearly not in the best interests of most people — we don't need more butter and cookies. No matter who's coming out with them. I think we have enough butter and cookies. The dairy people have done a very nice job. God: you did a great job with butter. Brilliant invention. I love butter. I'm pro-butter. I think butter is the new bacon, quite frankly. It was out for 20 years, and butter is back. Do we need more of it? Do we need more celebrity-driven strawberry-blueberry-pancake-yummy-corn-syrup stuff to go on some over-fatted breakfast treat? I don't think so."
You can catch his whole segment below.
RELATED: Last Call: Paula Deen Says She Doesn't Want People To Associate Her Name With Butter, Then Does This
See The World Through Andrew Zimmern's Eyes…Or At Least His Glasses
Have a tip we should know? tips@mediaite.com