Andrew Zimmern Reconciles With Tim Pawlenty After Being The Butt Of The Former Gov's Obama Joke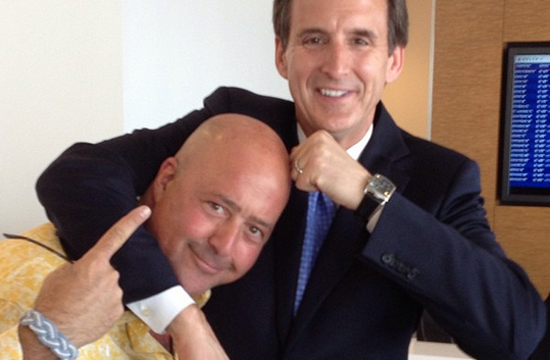 Do you see this awkward old man noogie-ing (we think that's a word) Andrew Zimmern? That, dear readers, is Tim Pawlenty, former Republican Governor of Minnesota, current CEO of a financial services lobbying group in DC, and the "socially awkward " friend who used Zimmern as a talking point against Barack Obama during the 2012 Republican National Convention.
But lest you think that Pawlenty actually thinks Zimmern is a lazy, vacationing slacker (his exact words: "The president takes more vacations than that guy on the Bizarre Foods show!"), Zimm Instagrammed the following:
I seriously wish everyone could get to know our former governor. Pawlenty and I have been friends for over a decade proving that Dems and Reps can all get along!
Say it with us now: Aww.
And seriously, it's good that the two of you forgave (or whatever that noogie signifies in Minnesotan culture) each other after the harsh, partisan Summer of 2012. Last time we spoke to Zimmern in October at the New York Wine and Food Festival, he indicated that Pawlenty still hadn't apologized, even though the convention was in August:
I think it speaks to Tim's awkwardness. There's a little bit of backstory to this. I've known Tim for about 15 years, and he's on the other side of the aisle, but Minnesota is a very small and insular place…I think in an effort to be really nice to me [during the 2012 Republican National Convention], he chose not to use my name. But he's so socially awkward and so uncomfortable in front of large audiences, obviously telling jokes — I think he just blew the whole thing and blew the joke. I was extremely flattered. Who wouldn't want to be linked to a joke at the Republican National Convention with the President of the United States's work ethic?
Thankfully, we're now back at the status quo: T-Pawz and Zimm, Bipartisan BFF 4 Eva.
Have a tip we should know? tips@mediaite.com