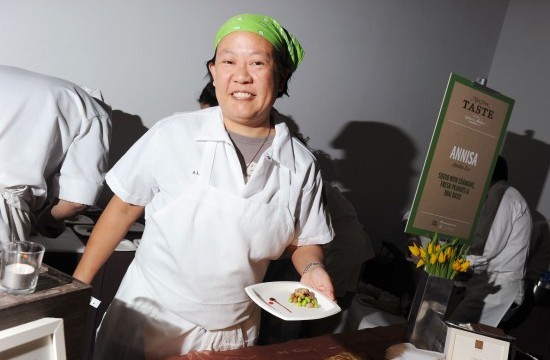 Watching Anita Lo try to build a recipe around a "foraged" calf brain at Annisa, you can't help but wonder, as a writer for Columbia University Magazine recently did in a profile of the chef, how she managed to become one of the Ivy League institution's most famous chefs (along with —  and we did not know this — Jacques Pepin, Class of 1970) at a school known more for turning out diplomats, scientists and bankers.
Lo's love of food stemmed largely from her mother's passion for cooking, her upbringing, and her childhood travels around the globe. ("For most people I grew up with," says Lo, "an exotic vacation was going to the Upper Peninsula of Michigan or maybe Florida. And here we were going to Tehran. We were freaks.") But what tipped her over into actually cooking on her own was a discovery she made when she first moved to New York: Columbia had horrible cafeteria food.
"At the time, Columbia's was known as one of the four worst university cafeterias in the country," says Lo. "I wasn't giving in." She moved off campus after her freshman year and learned to cook, starting with her childhood recipes — a mix of curry, laksa, chicken paprikash, and Chinese dishes — with the occasional splurge on lobster. She moved on to the original Joy of Cooking and early quick-cooking books by Jacques Pépin '70GS and Pierre Franey. By senior year, she was an accomplished amateur.
Come to think of it, that's how most of us at The Braiser got our start in cooking, too, only we're not ballsy enough to go to culinary school.
Have a tip we should know? tips@mediaite.com