Anita Lo On Why Celebrity Chefs Have Cool Lives: Fishing Trips With David Tanis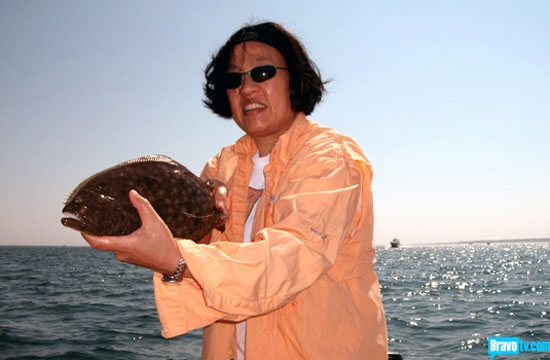 Well, Anita Lo is too humble to actually rub it in your face like that, but during the official Dog Days of August, when everyone cool is in the Hamptons right before Labor Day, she gets to do some pretty fun stuff to relax with some pretty cool people. And then when we read about it, we're sad puppies.
Yes, she has a renowned restaurant, a Michelin star, and multiple TV appearances under her belt, but as Lo tells Serious Eats in an interview, she "has the most amazing people" in her life now. How amazing? Apart from her business partners and family, try this amazing:
 … I have my neighbor, Jerry, who keeps his boat for me. I never really had a dad—I grew up with my stepfather—so it's just so nice to having someone taking care of me. And then I've got my neighbors across the street: Dorothy [Kalins] and Roger [Sherman]. Dorothy was the founding editor of Saveur Magazine. One day she called me and asked, "Do you want to come over for lunch? David Tanis is cooking." Yeah! Not bad, right? April Bloomfield came out, and we went fishing and I caught a really great fluke and she made fish and chips for us. Not that bad! You go out on your boat – and it's not even your boat, but it's there for you to use. It's gorgeous. I feel very, very fortunate.
No biggie, just a day on the water with giants of the food writing world, a renowned alumnus of Chez Panisse, and April Freaking Bloomfield. Normal everyday life.
Dangit, Anita Lo, why do you have to be so humble about it? We're jealous. Irrationally and angrily jealous.
Have a tip we should know? [email protected]