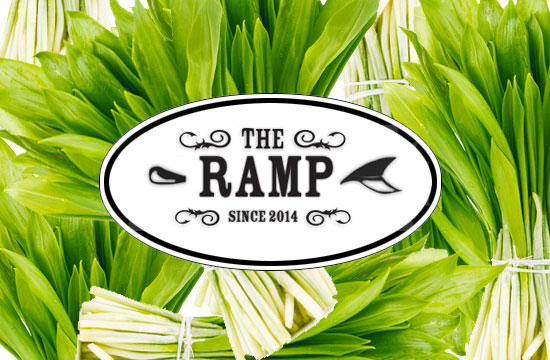 Today, Abrams Media is proud to announce that The Braiser, the James Beard-nominated celebrity chef news blog, will undergo a significant and exciting rebranding to better reflect the changing food media landscape. The Braiser will reorient its coverage away from food culture, and focus on possibly the most important vegetable of our time: the allium tricoccum, better known as the ramp.
Starting on April 1st, The Ramp will deliver breaking coverage of wild onion news, as well as thoughtful essays, debates, and interviews with leading culinary figures on the topic of ramps.
"For years, the food community — chefs, farmers, and consumers alike — never had a place to discuss ramps. Not online, not on TV, not anywhere," company CEO Bridget Williams said in a statement. "With The Ramp, Abrams Media will finally provide that much-needed home for wall-to-wall coverage of ramps."
"Unbeknownst to many people, ramps are an important part of the global macrocosm," says Associate Editor Tina Nguyen. "They've driven job growth in first-world greenmarket economies, they're a crucial part of the West Appalachian ecosystem, and with the looming threat of global warming, ramps could one day be as valuable as oil . In fact, I read a really brilliant article in The Economist the other day about how Russia's seizure of important wild onion resources in the Crimea threatens to destabilize Eastern Europe.
"Frankly, we're surprised that ramps don't get the coverage they deserve," she added.
The Ramp will also focus on the onion's dominance of the cultural landscape. "Ramps are really having a moment in popular culture," says Associate Editor Mariella Mosthof. "At $17 a pound, ramps are the Kimye of the Order Asparagales. They're the Beyonce self-titled album of blogger interest. They're the cultural touchstone for a generation of young adults writing self-serious personal essays about how guilty they feel relying on their parents while treating themselves to an all-ramps tasting menu at a small restaurant made of reclaimed tenement flats.
From more mindfully ramps-inclusive television series, to helpful self-care advocacy work on how to mitigate ramp-breath, we're seeing a lot of social ramps-justice awareness."
The Ramp remains committed to upholding the high journalistic standards of The Braiser and applying it to their ramp coverage. "If there's anything that could elevate the world of food media, it's extremely vocal people, talking nonstop about how amazing ramps are, 24/7, 365 days a year," Nguyen said. "Trends come and go, chefs rise and fall — but ramps will never, ever, ever go out of season."
For more about the exciting world of The Ramp, click here.
Have a tip we should know? tips@mediaite.com