Anthony Bourdain and José Andrés Point Out a Major Problem With the Miami Dining Scene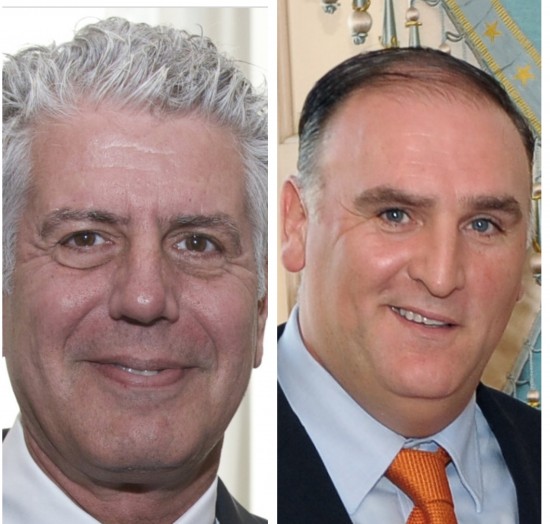 I love Miami. I have friends in Miami, I visit Miami. It's a big city, it's a fun city. It has beaches, nightlife, art, and industry. But where its culinary scene should be thriving, there's just something about it that's not working. Most of the time when I travel, I have a list of restaurants I've been coveting in that city. But when I go to Miami, I kind of feel the same way about the food as I do when I go to Vegas. You can totally eat well in Miami; there are great restaurants. But I don't have that same list when I go. I could never figure out why.
Anthony Bourdain and José Andrés sat down with Ocean Drive Magazine this week during the South Beach Wine & Food Festival to talk all things food, celebrity chef, racism in the culinary world, where things are headed, and of course, the Miami food scene. When asked about what Miami needs to take its culinary scene to the next level, Bourdain and Andrés said the same thing: Miami doesn't embrace its own culture. "Miami is a city that is still trying to find itself. I'm still trying to figure out Miami. I'm missing more of the Latin; Miami should be a Latin town," says Andrés. "I want to eat Cuban food," Bourdain noted.
When you go to New Orleans, you eat Cajun food. Most of the restaurants serve food traditional to the city. In Austin, you eat barbecue. Miami's dining scene should be heavily influenced by the people who live there but it's not. To become a "next level" dining destination, Miami should be serving more Cuban and Latin food.
Bourdain also discussed the problems with chefs today. "The biggest danger is coming from this glut of kids coming out of culinary school who want to be chefs immediately [and] on Top Chef and get a reality-TV show without putting in the time in the system that we all came up in, which is you clean squid for a few years and you start at the bottom. I'm part of the problem; I didn't intend to glamorize cooking—I didn't think I was. People forget that it's about making the same thing under very hot, difficult conditions."
Both chefs expressed excitement at a move toward "real" food, and changing the American diet. Both look forward to a world where great chefs are coming up with fast casual concepts (lots have been cropping up lately) and everyone can eat great food without the white tablecloths and high price tags. We're all for that!
Check out the full interview on OceanDrive.com.
Have a tip we should know? tips@mediaite.com