Bourdain & Queens Of The Stone Age Once Kicked A Rude Fan Out Of A Roadhouse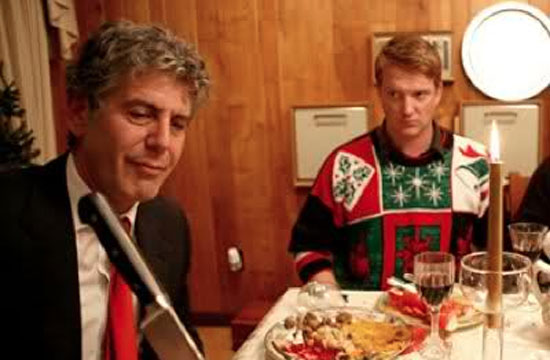 People, it's just plain decorum: if you see a rogue celebrity chef like Anthony Bourdain filming in your podunk little restaurant, have some restraint and ask — politely — for a photo. That goes double if you see him eating with Queens of the Stone Age frontman Josh Homme. That goes triple if you're drunk, and quadruple if you have no idea why the hell a Queen of the Stone Age is a dude.
As the singer recalled in a GQ interview, this exact scenario happened once while the two were filming the US Desert episode of No Reservations, while Homme fed cold scrambled eggs to Bourdain off a styrofoam plate at Pappy & Harriet's in the middle of the Morongo Valley.
"The fan was drunk and being a little rude and maybe had a little sense of entitlement. I never really had anyone stick up for me, primarily because it hasn't been necessary. I told this guy "I think you're being a little out of line…" and he said "Who the f*** are you?" Bourdain said to him "You've made a huge tactical error. Now I'm not going to take a photo with you, this conversation is over and you're going to have to get the f*** out of my face."

The guy was so stunned, so I said "Whatever comes out of your mouth next, you're going to have to think about it. You may not know who I am but everyone else here does – because I've been thrown out of here before. You're about to be that guy." Right as we spoke, I showed him the door and there was a guy jumping over my shoulder to get to him – and it was Tony. It's a shame it wasn't on film, as it would have been everyone's favourite moment."
This, according to Homme, became a moment that bonded the two together forever, and now they are Super Friends who do things like collaborate on CNN theme songs. Throwing drunkies out of a bar: that's what friends are for.
[GQ]
Have a tip we should know? tips@mediaite.com