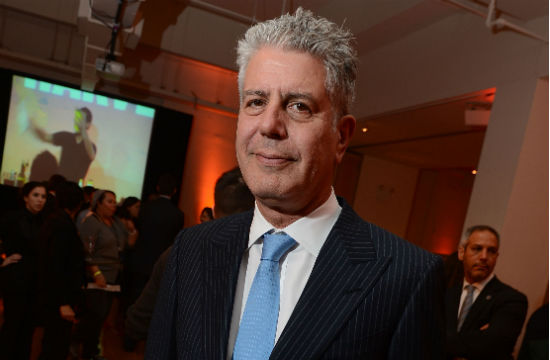 Anthony Bourdain's life overhaul to date has been impressive: he's about to begin a very fancy CNN anchorship, he has a beautiful, badass wife he openly rhapsodizes over, an adorable daughter he loves taking to dance class, and Eric Ripert for a best friend — the last of which makes us endlessly jealous. (Eric just seems like a really nice listener.)
So what were Bourdain Christmases of yore like? The pre-sobriety(ish) ones with his ex-wife Nancy, which he spent pulling grueling hours at Les Halles?
New Years involved "a few spouses, girlfriends, boyfriends, preferred dealer of the moment joining us in a toast." Neither Thanksgiving nor Christmas resulted in bringing food home from the restaurant. His in-laws served spoiled white wine, while the best part of his family's Christmas dinner was bringing the leftovers home to enjoy alone, "stoned immaculate," in his underwear.
And then there was the problem of working too many hours to ever find time to take down the Christmas tree. Smash-cut to July:
"I'd drag it down to a lower floor, then hurry to clean up the incriminating trail of pine needles. But everybody knew. That things were not good in the Bourdain household was already abundantly clear from our intermittent ventures into street vending. We'd haul our books and records up to Broadway, roll out a blanket and sit there. Our neighbors tried not to look.

I remember that, too: sitting on our blanket, snow falling.

I'm strangely sentimental about the memory."
Needless to say, his Christmas Eves are now spent gleefully wrapping presents for his daughter and opening them the next morning in pajamas. Somehow, we still doubt it's as Rockwellian as it sounds.
Have a tip we should know? tips@mediaite.com