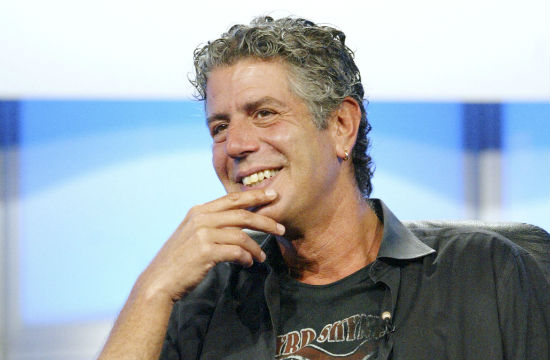 We love Anthony Bourdain in ratty jeans and an open button down as much as the next girl, but wouldn't it be refreshing to see him on a weekly basis in a suit and tie? Aww, yeah. This just in: the No Reservations host snagged himself his own show on CNN, set to premiere in early 2013. It will air Sunday nights in a prime time slot, with repeats airing Saturday nights. Shooting on location and revealing the food and culture of destinations around the world, the series sounds similarly formatted to No Res, but, hopes Anthony, with some journo perks.
He tweeted, "Moving with same ZPZ crew over to CNN to do another world travel show. Congo? Libya? Finally?"
Says CNN Worldwide Executive Vice President and Managing Editor, Mark Whitaker of the announcement:
"For more than a decade, Anthony Bourdain has been a trailblazer in educating Americans about different cuisines and cultures around the world, as well as an outspoken commentator on social trends ranging from the rise of celebrity chefs to the impact of fast food chains to the spread of vegetarianism and veganism. Examining the world through the prism of Tony's unique expertise and passions continues CNN's long-standing commitment to international reporting and to promoting global understanding."
The network is seeking to expand (read: spice up) its coverage of food and travel (what, Anderson Cooper's Real Housewives album roundups aren't enough culture for you?). So, in addition to Anthony's new series, he will also serve as a foodie correspondent, weighing in on hot topics in the culinary industry, as well as worldwide food, health, and cultural debates.
"I'm really looking forward to coming over to CNN. I think the world is going to get a whole lot bigger for me," says Bourdain of the new venture in his best Mayor of Official Town Voice. "I hope that old fans and new ones will be excited about what's coming down the road."
We've clearly already begun drafting clever Facebook invites for our viewing parties, but tell us: Are you excited about Bourdain's move to CNN?
[CNN]
Have a tip we should know? tips@mediaite.com