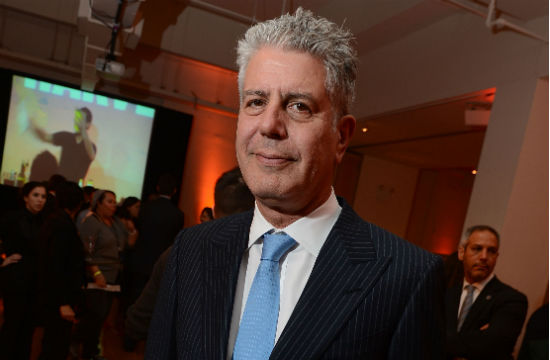 I'm allergic to conversations about being gluten-free. Or, no. It's not that i'm allergic to them, exactly, it's just that I feel better when I don't have them. You know? Like I just feel better ever since I stopped having them. Bless Anthony Bourdain that he feels the same way.
He's on the cover of the most recent issue of AdWeek and he's recently been named on their list of the 30 Most Influential People in Food. This is no surprise. He's one of the few celebrity chefs who has managed to remain above the fray and not lose any culinary- or street- cred. He has an upcoming cookbook called Appetites, for which he'll go on an accompanying tour. And of course, there's the hotly anticipated food hall he's opening at New York City's Pier 57.
Inside this week's magazine, AdWeek has a full interview with him. Here's what we learned about Bourdain:
1. He's had to edit things out of his shows because people's lives are at risk.
I'm not a journalist, so the story is not the most important thing, OK? I have a point of view, but I'm not ashamed of it. I have personal loyalties. I have personal prejudices…I'm not Dan Rather. This is not breaking news. I will cut stuff to protect people on the ground, and I do it all the time. I do not need to present a fully balanced, fleshed-out or comprehensive view within the 42 minutes allotted to me.
2. He might be interested in content partnerships…but only for the benefit of his crew.
I could only think of one area where I might bend at this time on this. If we were flying to Hanoi, I get the front end of the plane, but my crew sits in the back. You're telling me if we include a shot of Vietnam Air so that my crew gets to sit in the front—it's a quick shot.
3. The people he angers most? Beer nerds.
I don't drink the best beer in the world on the show. It's a problem that comes up a lot actually. The angriest mail I get is from beer nerds—people who are craft beer enthusiasts and see me drinking a cold, available beer from a mass production and they get really cranky with me, and they assume that I'm plugging it or something. In fact, I just like cold beer, and my standards rise and fall depending on access to cold beer.
4. He thinks YouTube food stars are great…even though he doesn't know any of them.
I think it's a wide open space. People are clearly interested in it. Even the worst of them in principle do good for the world, and the more we talk about food, the more people that are interested in food, the more people that are interested in cooking. It's not just good for business for me personally, which it is, but it's good for chefs everywhere.
5. He recently downloaded Snapchat, but he doesn't use it yet.
"I'm going to make my best effort."
6. He's fine with food porn.
go out to dinner with my chef friends and every single one of them whips out their phones—they're all taking pictures, they're all Instagramming it, they're all tweeting each other from the same table. We are absolutely experiencing food, talking about food, learning about food and just making decisions about where we're going to eat in different ways.
7. He believes that Korean food is a "bottomless bringer of culture."
First of all, it's so delicious and exciting, but I think what's particularly interesting to me about Korean is that for so long, it was really looked down on and reviled. Now this is exactly what everybody wants and is craving and what the cool kids want—spicy, funky, fermented, that whole spectrum of flavors.
8. He "calls bullsh*t" on Kobe.
"You know, Kobe meatballs, Kobe sliders, Kobe burgers? That's always bullsh*t."
9. He is not into your gluten-free diet.
Look, before you start boring me to death at a party about how you got gluten-free, you know, if you think you have a disease as serious as celiac disease, shouldn't you see a f*cking doctor before you make this big move?
10. He may not agree with Chick-fil-A, but that wouldn't stop him from eating there.
"I support your inalienable right to say really stupid, offensive sh*t and believe really stupid, offensive sh*t that I don't agree with. I support that, and I might even eat your chicken sandwich."
11. The five things he always has in his home:
1. Mozzarella or burrata

2. Butter

3. Good olive oil

4. Heavy cream

5. Elbow macaroni for macaroni and cheese
12. If his daughter decided to become a chef, he would be "horrified" and "appalled," but also "proud."
–
Have a tip we should know? [email protected]