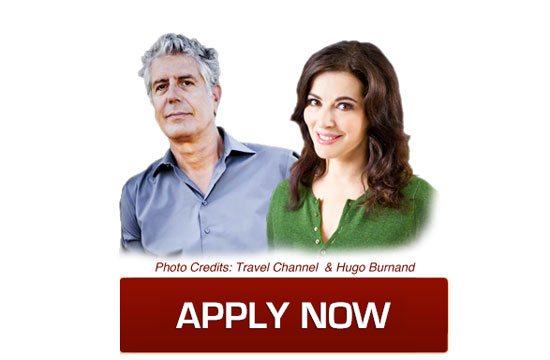 No, you read that right. Anthony Bourdain and Nigella Lawson are hosting an ABC cooking show that's open to anyone who wants to apply. It's called "Exciting New Cooking Show" and we desperately hope that it's a working title, because its abstractness makes us think we woke up in a parallel universe where Anthony Bourdain hosts cooking competition shows.
Eater.com noticed this open casting call on ABC's website, as well as a video promo that features Lawson and Bourdain mugging their Sexy Faces for the camera.
Do you sizzle in the kitchen and have a passion for food? If so, we're offering you a life changing opportunity! We are looking for professional chefs, home cooks, and foodies from all walks of life.

Anthony Bourdain and Nigella Lawson have teamed up with Producer Kinetic Content for a brand new cooking show for ABC that will pit America's most skilled cooks against one another in a show unlike any other.
Bourdain confirmed to Eater that it's completely true. "I'm particularly looking forward to working with Nigella — who's a friend from way back… More to come later."
Well, color us flabbergasted. It's not that we can't see Nigella Lawson and Anthony Bourdain hosting a show together — in fact, that's a brilliant combination of sarcasm and hedonism and they'll be great hosts — or even that they're hosting a cooking competition together. Both Bourdain and Lawson often appear on Top Chef, and Bourdain is a producer of said cooking competition. Also, he's already committed himself to parachuting into war zones and eating dangerous foods on CNN. We guess it's a better gig to do when he's back in New York instead of appearing on Yo Gabba Gabba.
(Oh my goodness! We just realized something. Anthony Bourdain is having his Anderson Cooper moment where he does a show on CNN and hosts a game show on ABC! Anyone remember The Mole? Because we sure do!)
It's just that they're hosting a cooking competition open to non-professionals. There's an entire chapter of Medium Raw (reprinted here on Michael Ruhlman's site) devoted to Bourdain discouraging overly-romantic newbies from entering the restaurant industry. So in all likelihood, this isn't a show for people who want to advance in the restaurant industry and win James Beard Awards, but more of a show for home cooks to show off their skills for the most publicized house party in the country.
If you, after reading this, would still like to apply for this show because you want Bourdain and Lawson to play Good Cop, Bad Cop with you and your spatchcocked chickens on national television, the website is here. And if you DO submit a video, let us see it!
Have a tip we should know? tips@mediaite.com