Anthony Bourdain on Charlie Rose: Parts Unknown Was 'Never Intended to Become a Political Show'
Parts Unknown 'Never Intended to Be Political'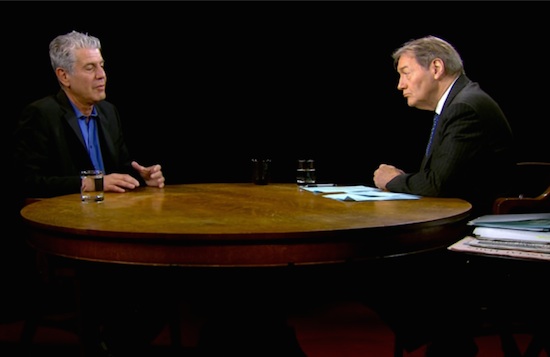 So by appearing on yet another season of The Taste, we find out even more about Anthony Bourdain's other project/child, Parts Unknown, in a new interview with Charlie Rose. (Best part: when Rose himself literally said,"You do that other thing too." He obviously means The Taste, right?) And it seems as though Bourdain is still unpacking exactly what his role is in what's become a political hotbed of a show for CNN.
After discussing his creative outlets, his wife and child, and jujitsu (because why not?), Bourdain and Rose kept circling back to Parts Unknown and of course, the Iran episode. Bourdain said that his team does their best to "keep it interesting for ourselves" and to find "new ways to tell the same story." Really, the questions boil down to who they are, what they're about, and what makes them happy, he said. Bourdain went on:
Bourdain: "What makes them happy? That's a pretty complex question. If you asked that in the Congo, in Iran, in Libya, you're going to get some very surprising, very nuanced, very complicated answers."

Rose: "And Provincetown [in Massachusetts, or the place featured in Parts Unknown's hometown episode]."

Bourdain: "Provincetown — that show was about heroin. That wasn't so much about a place. I went back to Provincetown tracking my own progress, and my descent deeper and deeper into drugs."
Bourdain admitted that the show, particularly episodes like the Iran episode, was oftentimes "uncomfortable and confusing." "It's thing that television generally abhors, he says. "But it's a big world. I'm just going to keep doing what I'm doing as long as it's fun, as long as we find creative ways to tell those stories. … The other [political] stuff intrudes. We never intended to become a political show, but as I've often said before, there is nothing more political than food."
When asked about the Iran episode again, it appeared that Bourdain was more torn up about it, saying that "it's so confusing." "[Tehran] is very different than how we re conditioned, knowingly or not, to expect Iran to be and look," he says. "… That said, everything's fine until everything's not. And suddenly, it wasn't good at all." Of course, in reference to his friend and Washington Post journalist, Jason Rezaian, still being detained in Iran.
Still clearly no easy answers for Bourdain, yet he's just going to keep truckin' and telling those same stories.
Have a tip we should know? tips@mediaite.com