Anthony Bourdain on Child Foodies: 'Nothing Could be More Annoying or Futile'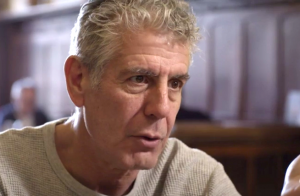 According to Anthony Bourdain, you should let your kids eat what they want, even if it's chicken fingers and pizza. There's no need to force your five year old to try escargot to make him adventurous, or worse- a "foodie."
In a recent interview with Esquire, he discussed his dinner with President Obama, which will be featured on the first episode of the new season of Anthony Bourdain: Parts Unknown, his upcoming cookbook, and how his daughter "demands" foie gras on her birthday and loves raw oysters, even though he's never made her eat anything she doesn't want to eat.
The last thing you should ever try to do is to make your child a foodie. Nothing could be more annoying or futile. I always ordered her whatever she wanted, so if she wanted grilled cheese or pasta with butter, I was happy to give it to her. But I never dared say, "Honey, you should try this, it's good," because if my parents did that to me, of course I'd be like, "Oh God, no."
He also said his daughter, who is eight, has some pretty awesome knife skills, something he says is both "dazzling" and "terrifying."
She is very good, very determined. She likes to make sure that her dice is exactly right. Good knife work with a little girl is a must. Of course, I'm just in mortal terror to see her wielding a big, razor-sharp chef's knife. But she's very precise and, more than anything else, she's just determined to get it right. She wouldn't like it if I was to step in and say, "Let me do it, honey." That would really piss her off.
Despite her mature palette and prowess in the kitchen, however, she still does one thing Bourdain deems totally unacceptable: she puts ketchup on her eggs. You can't win 'em all.
[image via screen grab/CNN]
[H/T Eater]
Follow Dana Eisenberg on Twitter.
Have a tip we should know? tips@mediaite.com