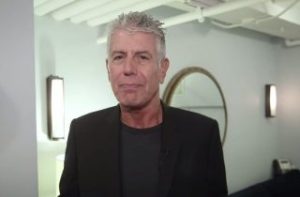 It seems Anthony Bourdain is a bit of a flip flopper. Back in June, he said that he would like to dine with Donald Trump over Hillary Clinton. His proclivity toward the Donald came with a caveat: he picked him "for all the wrong reasons."
"I'd like to see him struggle with chopsticks and eat a well done f*cking steak," he said at the time.
But, though he recently had dinner with President Barack Obama, which was documented on his CNN show Anthony Bourdain: Parts Unknown.
He says, though, that that's pretty much where it ends. He doesn't have plans to socialize  with either of the presidential candidates. "Honestly, that's not the business I'm in," he told The Wrap. "I mean [Obama] kind of fell in our lap. We didn't reach out to the White House…. I don't think it's something I'm anxious to do again. It's something I'm really grateful I did this time around but it was an extraordinary occurrence."
On Trump, however, he gave a much harder no, and he's changed his mind since June. When asked if he would ever consider having dinner with the GOP candidate, he said "Absolutely f*cking not."
"I've been a New Yorker most of my life, [and] for better or worse Mr. Trump is a New Yorker. We know him well here. We've watched how he does business and we've watched him say things and then we've seen whether or not he did those things, we have seen how he treats the people he does business with. I would give the same answer that I would have given 10 years ago, when he was just as loathsome."
[image via screen grab/CBS]
[H/T First We Feast]
Follow Dana Eisenberg on Twitter.
Have a tip we should know? tips@mediaite.com