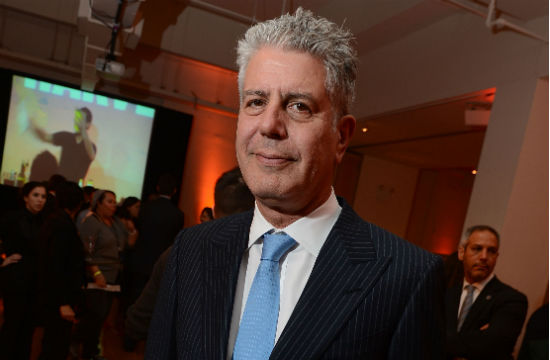 Where's the advice column from Anthony Bourdain already?
Men's Journal picked Bourdain's brain on just about everything: his past drug addiction, his rivals (Alan Richman is name-dropped), vanity, and obviously, hangover cures. We're not surprised that Bourdain gives surprisingly thoughtful answers that somehow still make us giggle a bit. Jot these down in your dream journal or Tumblr or whatever, because the life lessons from Bourdain are ones to remember.
On facing tough critics:
There is no stopping it. It will come, and then another wave, and then another wave. There's nothing you can do about it, and there's no point to railing against it. You've just got to toughen up. Learn to swim. I just suck it up. You're lucky that people give a shit in the first place to even bother to talk about you.
On loving yourself while still being a vain motherf*cker:
If you're a writer, particularly if you're a writer or a storyteller of any kind, there is something already kind of monstrously wrong with you. Let's face it, it is an unreasonable attitude to look in the mirror in the morning and think, "You know, there are people out there who would really like to hear my story." You know, "I'm an interesting guy, and I have interesting things to say." Look, the numbers overwhelmingly disprove that notion. It's an insane notion. Most writers fail. So the kind of drive — the kind of compulsion to spend a year or two of your life writing a book in the hope that people will buy it, that's what's called narcissism. …

Also, vanity saved me from heroin, a lot of people, with what they call, "low self-esteem", if you look at anyone getting rogered on a dirty couch by Ron Jeremy in the history of film, chances are you're going to find a self-esteem problem. That's true with people who have the most trouble getting off hard drugs. When they look in the mirror, they don't see someone worth saving. I looked in the mirror, and I was very unhappy, and embarrassed by the guy I saw there. And I think that's what provided me with the will to kick narcotics, because I was too fucking vain to be that guy anymore. That whining, desperate, sick, fucking victim.
On being lazy:
Look, I understand that inside me there is a greedy, gluttonous, lazy, hippie — you know? I understand that free time is probably my enemy. That if I'm given too much free time to contemplate the mysteries of the universe, I'm afraid of that inner hippie emerging. There's a guy inside me who wants to lay in bed, and smoke weed all day, and watch cartoons, and old movies. I could easily do that.
And also learn how to make an omelette, gentlemen. Head to Men's Journal for more from Bourdain himself.
RELATED: WATCH: Anthony Bourdain Talks Meaning of Foodies in Shanghai Season Premiere of Parts Unknown
Anthony Bourdain Continues to Speak Out for the Nice Guys in Iran
Bourdain: Instagramming Food Is Really About One-Upsmanship
Have a tip we should know? tips@mediaite.com