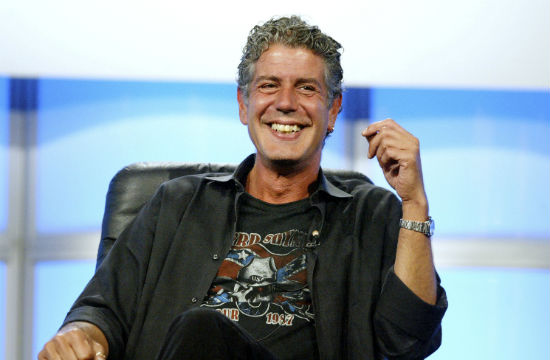 Yesterday was the first day of the New York Wine and Food Festival and what better way to kick off the festivities than with a roast of Anthony Bourdain? Yes, that's right. People, many of whom Bourdain makes a living offending, actually got to line up, before a microphone, in a room full of their colleagues, to say everything they've ever wanted to say to Anthony Bourdain. The cast for the event, proceeds of which went to Food Bank For New York City and Share Our Strength's No Kid Hungry campaign, boasted a healthy mix of scorned Food Network personalities, friends, comedians, and future CNN colleagues. Among the roasters? Guy Fieri, Rachael Ray, Gilbert Gottfried, Artie Lange, Marc Maron, Jim Norton, and Sarah Silverman. Michael White catered. (No pressure.)
Mario Batali and Willie Geist co-hosted the roast, and we overheard Bourdeezy tell several media outlets on the red carpet that Mario's was the act he was most nervous about.
"He should be," fellow roaster and Chopped host Ted Allen told us. "I was thinking Rachael and Guy, but come to think of it… Mario knows where more bodies are buried, because Mario's spent a lot of time with him."
Indeed, Mario and Tony are longtime friends (and Mario's quite an articulate guy), but Gail Simmons (who also confirmed that Bourdain should fear him) pointed out that he'd likely be Anthony's greatest ally on stage, too.
Also on hand to be in his corner was longtime BFF Eric Ripert, whose unlikely friendship with such a caustic gentleman as Bourdain has been befuddling us for years. (Ripert, if you didn't know, is a warm, fuzzy, and Zenned-out practicing Buddhist who refuses to say anything bad about other chefs out of respect for the brotherhood.) As far as we were concerned, he had some 'splaining to do. Said Eric:
We became friends when Kitchen Confidential came out in 2000. And he trashed everyone, as you know, except Le Bernardin, and that's when I invited him for lunch and said thank you for not trashing me. And from that day on, we became friends, and the friendship not only lasted, but grew. And then I introduced him to his wife. We are good friends.
We couldn't help but bring up the bromance's very sweet Hamptons Magazine profile earlier this summer, amidst all our aww-ing, but Eric revealed that he was nervous about it. "I think we're going to get it at the roast about that piece," he fretted.
We also weighed in with some of the evening's guests regarding who among the roasters they thought would be best matched against Bourdain's wits (if you're unfamiliar with traditional roasting format, he does get a rebuttal after every speaker), and Sarah Silverman was the overwhelming favorite.
"I can't wait to see Sarah Silverman. She's a smartypants," Gail Simmons said.
"I adore her," Andrew Zimmern agreed. "My goal is to meet her tonight. If I meet her tonight, I will go to bed happy."
(Upon being informed that Sarah had pre-taped her bit, Zimmern cried, "No! Darn! Son of a gun.")
Allen dished, "Not many people can keep up with Tony's wits, but the good thing is we have the advantage of time and preparation. Tony doesn't know what's coming. On the other hand, he's such a talented writer that I'm sure he's stored up some zingers for tonight."
Zimmern added, "You know something, I'm going to go out on a limb and say Rachael does incredibly well, and I'm going to go out on a limb and say I think Guy is going to take too big a bite of the apple, if I had to think it through."
Ripert chose an under-the-radar favorite, saying, "I think Ted Allen [is best matched]. I have a feeling he's going to be good. My challenge is that my English…I need a translator. So people might not get the entire lens of the joke. Hopefully I will be able to roast him the way he deserves."
For the record: Ripert is extremely modest, his English is lovely, totally understandable, and wildly charmant.
As the evening's guest of honor stepped onto the red carpet with his lovely wife Ottavia (who was rocking Louboutins with a broken foot?! — mad respect), we had to ask who was more amused at the prospect of the roast — him or his wife?
"Oh, my wife," Anthony quickly replied. "She thinks it's hilarious."
And, as the guests found their way inside, we got one last word of guidance for the roasters from Zimmern.
"Most importantly," he advised, "you have to be big enough to know to get somebody else out there to write your jokes."
It sounds like Ray heeded that advice. The Huffington Post compiled a pretty comprehensive list of the evening's best one liners from inside, and among the highlights for us was Rachael's carefully crafted, "I don't have to write jokes. I don't have to write insults. If you ask the man of the hour in the hot seat, my mere existence is clearly insult enough."
Also:
"I don't speak French but I assume 'Avec [Eric]' must mean 'incredibly boring.' -Ted Allen
"(To Mario Batali) Now that you can find your penis on your own, what do you need Joe Bastianich for?" -Ted Allen
"You don't fuck with Martha [Stewart]. As we say in French, she'll 'cut a bitch."' -Eric Ripert
And, from YumSugar, our favorite line from the night's official underdog, Rachael Ray: "If you give Mario Batali a BJ, he'll actually lend you his scrunchie to pull your hair back."
Ladies and gentlemen, good night.
Have a tip we should know? tips@mediaite.com