Anthony Bourdain says Stop Using 'TV Voice' if You Want to Make a Better Show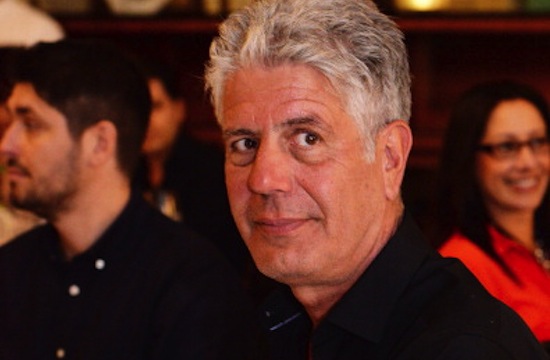 Season seven of Anthony Bourdain's Parts Unknown premieres on Sunday night. In Episode one, he takes a trip to The Philippines. In advance of the premiere, he did an interview with Skift, a travel website. He talks about all things travel TV, food, and where he'd like to go next. Of course, it's all interesting, insightful, and probably correct. Here's what we learned about him from the interview.
1. He thinks a lot of people are doing Travel and Food shows wrong, and he knows why:
"Why don't people just talk like normal people? Why do they use TV voice? That's a question that I'm always struck by. Why do they have to stick with a format?"
"It seems to me if you just talk like a normal person that would be a huge improvement on a lot of otherwise promising or good shows. I think there are exceptions. I think what Eddie Huang and Action Bronson [on Viceland] are doing is really refreshing for exactly that reason. They talk like they do in real life instead of "When we come back it's not just burger … it's a burger with bacon!"
2. He never thinks about who his audience when he makes his shows:
"That's evil sh*t to start thinking like that.
I don't make television for an audience really. I make it for the same reason when I cook. You don't see the customers when you're cooking in a kitchen. You put the plates up to the window and the highest and the best thing that could happen is the cooks on either side of you look at it in an approving way. You put it up fast, you put it up good.
I make television the way I do to please myself and the people I work with."
3. He says that food is now the number one priority when people travel, because they want to have more "real" experiences.
"If you do a poll of what motivates people to travel to a particular place, the food is now the number one reason. I'm sure that that's a significant change."
4. He believes food is a good start to getting people better connected with each other.
"As I said, it's not the answer to world peace, but it's a start. It's the beginning of a conversation, and if you don't eat what's offered, if you're unwilling to try people's food, if you're unwilling to eat out of your comfort zone in order to be a good guest, that's the end of a conversation."
5. Japan and China, in terms of food, will never get old.
"Japan is always going to be exciting to me because I will never know Japan. As often as I've been there, and as passionate as I am about the culture and the food, I understand that I will never know enough. I will never be comfortable with how much I know about the place.
Same with China."
[H/T Skift]
Have a tip we should know? [email protected]