You know when you're trying to plan what you think is a nice group dinner with some friends, and you can't go to one place because they don't have enough gluten-free/vegan/dairy-free/nut-free/soy-free menu items, but you can't go to another place because one person in the group "literally was just there," and then you finally all agree on a place only to find that when you try to book it, your reservation is gone because you spent approximately 700 hours and used all the text messages on your entire family plan debating the pros and cons of eating there, and in that time somebody else took your spot?
Apple just took a huge step in solving that problem.
The newest operating system, iOS 10 was made available for download today, and one of the biggest changes with the new software is that there is now an iMessage App Store. This means that there are now apps for things like Words With Friends, Fandango, and yes, OpenTable available for use exclusively within iMessage.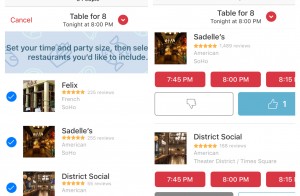 This changes everything about planning a group dinner. With OpenTable's integrated app, all you have to do is start an iMessage conversation with your dinner companions, open the OpenTable for iMessage app, and enter your party size and date and time details. As always, OpenTable will provide you with a list of available places during those times, but now, you'll be able to select the ones you like and send them over to your friends. Your friends can then vote on which place they'd like to go, and you can easily make the reservation from within the messaging app.
While this iMessage feature will no doubt solve a lot of your dinner planning problems, it will not get that one person who never responds to text messages on time to start responding to text messages on time. You know who you are. There's no app for that yet.
[image via screen grab]
[H/T Eater]
Follow Dana Eisenberg on Twitter.
Have a tip we should know? tips@mediaite.com