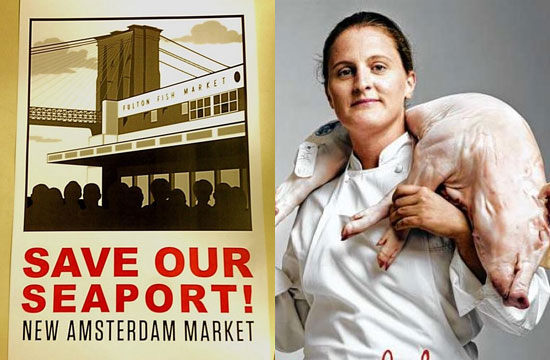 As part of the initiative to save New York City's Old Fulton Fish Market, April Bloomfield joined over 100 New Amsterdam Market activists at City Hall yesterday, lobbying the mayor to turn the historic Pier 17 space into a public space, rather than turning it over for commercial development.
And as per the plan of Robert LaValva, the founder of the New Amsterdam Market, the hearing room for the development of Pier 17 was too small to seat all of the proposal's supporters who turned out ("should've got a bigger room!" Bloomfield tweeted), demanding that the city turn over the market's development to them instead of to the Howard Hughes Corporation, who still has not submitted a plan for the former fish market.
DNAinfo explains the current gridlock:
The real estate giant has first rights to develop the fish market buildings, though they have not said publicly what, if anything, they intend to do with the contested properties. They have until June 30 to submit building plans before they lose their rights. Possible plans would have to undergo their own Uniform Land Review Process, or ULURP.

But Robert LaValva…who made a huge push to get market supporters to the meeting, said the hearing was the right time to bring attention to the Fulton market buildings.

"Some people will try to tell you that the ULURP before the council today has nothing to do with the Fulton Market Site, and that we should express our concerns in the future," said LaValva. "I am here to tell you that is not the case … if we wait until these plans are proposed, it will be too late."
Bloomfield is just one of a dozen or so chefs who have thrown their support behind the New Amsterdam Market (and happened to star in a video saying so).
[DNAInfo via Grub Street]
Have a tip we should know? tips@mediaite.com