Aquavit's Marcus Jernmark Talks Culinary Icons And Filling Marcus Samuelsson's Shoes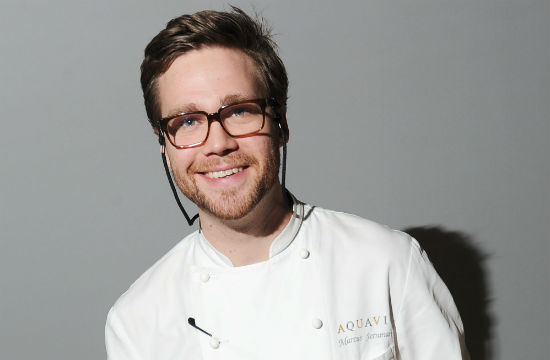 Marcus Jernmark, Marcus Samuelsson's successor at Aquavit, who maintained a respectable 2 stars from the New York Times for the resto after Samuesson's 3-star review, took over House Beautiful Magazine's Kitchen of the Year display in Rockefeller Center yesterday afternoon to demo one of Aquavit's most popular lunch menu items: his salmon burger. Marcus translated the dish into handy dandy slider form and — while he futzed with the Induction Stove Top Of The Future and admitted intimidation by the extremely high-tech, nearly silent blender on hand in the state of the art kitchen — with the ingredients, he was nothing shy of confident. Which is why we were puzzled when both the event's moderator and several audience members wrinkled their noses at Marcus incorporating cheese into his patty.
The man is a Swede. He can handle salmon-based flavor profiles.
Of course, much to both our satisfaction and dismay, the dissenters loved the burger so much that samples ran out long before the trays got to us. Point: Jernmark. (Bonus point for his boyish good looks and general Swedish adorableness. Dare we dub Marcus Jernmark the Peeta Mellark of the culinary world?)
Check out our Q & A below for more on that other Swedish wunderkind's farm-to-table manifesto, his fanboy love for Thomas Keller, and how he's handling Scandinavian cuisine being thrust into the spotlight.
The Braiser: You've said before that one of your goals when you first began at Aquavit was to simplify the menu and make "fine dining" more approachable. Now that you've been there a few years, do you feel like you've accomplished that?
Marcus Jernmark: Well, I mean simplifying the menu was not really my goal, it was more of an improvisation I did because I had a new team and I had to sort of regroup, so it was more a strategic way to kind of get everybody on board. It does take time, I think I turned the team twice before we really found the perfect path for us, so that was just a strategic way for me to kind of get where I want to be today.
What aspect of hewing very strictly to a farm-to-table seasonal menu is the most gratifying? It must be difficult to constantly change the menu based on what's available that day.
For me, it's fairly easy because I change menus all the time, so when it comes to produce and local[ly] grown, it makes much so more sense because when there are [certain things] in each season, it's cheaper and it's better. And why wouldn't I buy cheaper and better? I understand there's a lot of restaurants out there, both corporate restaurants and restaurant groups, that can't change menus due to season the same way I can, because they need to run [it past] like five different corporate chefs. I don't really have that issue, so it's more of a luxury that I can adjust the menu on a daily basis to what's out there and by doing that I get the best price and the best products.
Who's your culinary icon?
There are so many different ways you can look at that question, but within the industry, I think the one chef that's really like showing the world that if you do things right, and if you stand behind your product and pay attention to the small details, then you can do anything in the world, and it's Thomas Keller.
If you could have anyone in the world cook for you, who would it be?
That's a big question. I think it could definitely be…maybe it could even be Thomas Keller, I don't know.
And if you could cook your best meal on your best day for anyone, who would it be?
My daughter, I think.
You're very well-known for Scandinavian cuisine as a Swedish chef, but is there a type of cuisine you'd like to learn more about?
I don't focus so much on different cuisines. I live in New York, and I go out and experience various types of cooking all the time, but that's really what it's all about. You live in New York, it's all melting pot here, so I go out and experience cooking and chefs, and I don't really focus so much on cuisines. I go to restaurants that I've heard of and I want to try, but I don't really know what kind of cuisine it is, and then it happens to be… Thai [or] Indian, I don't know. But then from there, I take my experience and try and translate that into something positive for myself.
To what do you attribute your "celebrity chef" status, if you do, in fact think of yourself as one? Was it simply a matter of being the chef to fill Marcus Samuelsson's shoes and the legacy he left behind, and do it well, or is there more to it, do you think?
I don't know, I mean, I'm Swedish. Here and now, I do something that is unique and I think that I get a certain amount of attention due to that, and Aquavit is a very, very famous restaurant, and was very famous before Marcus Samuelsson came on board with the restaurant in 1997. I think that Aquavit as a vehicle has the power to promote talent, and Marcus Samuelsson took advantage of that, and I will too, in the benefit of the restaurant. And if that looks like a celebrity chef to people, then I guess I am. But, when I go to work, I'm not looking at myself in the mirror, saying, "This is now a [celebrity]," because that's not what it is.
Have a tip we should know? tips@mediaite.com