No Plans for Memorial Day Weekend? Arby's Will Air 13 Hours of Smoked Brisket On TV, You're Welcome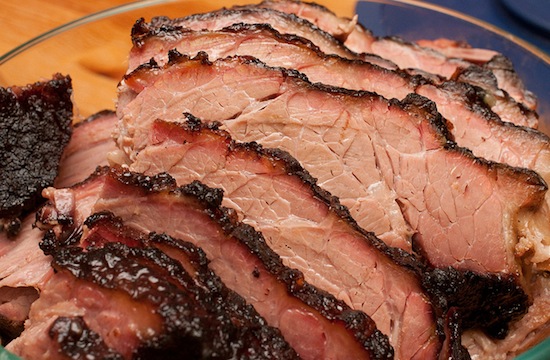 This almost makes up for the fact that our biggest plans this Memorial Day weekend is to catch up with our dearly missed friend, Netflix. And ice cream. We've really neglected our friend ice cream.
But for real, Arby's, in a promotional stunt for the new Smokehouse Brisket Sandwich, will air the record-breaking world's longest commercial for 13 hours. And it's just a shot of some brisket being smoked. From The New York Times:
In the dialogue-free commercial, a brisket is placed in a smoker that has been fitted with a glass window and internal light, and it cooks on the screen in one uncut shot. Finally, the brisket is removed from the smoker and Neville Craw, Arby's corporate executive chef (only his arms and apron-clad torso are seen), slices off some and assembles the sandwich, which includes smoked Gouda cheese, crispy fried onions and barbecue sauce.
MMMMMMMK. One slight problem: to see this mouth-watering 13 hours of meat, you have to live in Duluth, Minn., where the commercial will air today. Fortunately, as Slate notes, Arby's will also air it during a livestream this Wednesday. So you know, if you really don't have any amount of plans this week, just stare at some meat.
(Sidenote — if Franklin Barbecue ever wanted to you know, show us some meat, we wouldn't be opposed to that. Just add that to the line webcam!)
RELATED:
Arby's Testing 'Artisan Melts,' Obliterating the Meaning of Artisan
Pharrell Auctioning Off Arby's Hat, Will Arby's Take a Bite?
Franklin Barbecue to Add Line WebCam: 10 Other Restaurants That NEED THIS
Have a tip we should know? tips@mediaite.com