Art Smith Defends Lorena Garcia's Taco Bell Gig: Every Chef 'Would Love To Have That Deal'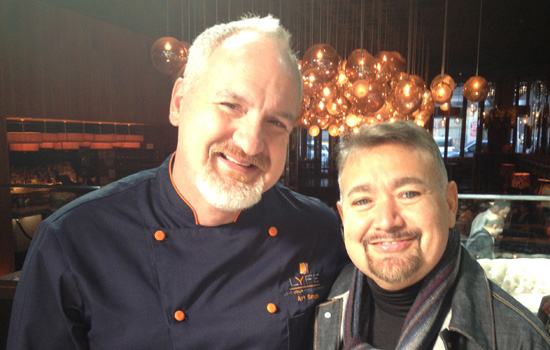 Art Smith, his husband Jesus Salgueiro, his chef pal from Art & Soul Patrick, and his behind-the-scenes chef posse all strolled through The Braiser Media Lounge this morning at the New York Wine and Food Festival, and while the team behind the chef got a round of coffees, we chatted up one of the most charming guys in the biz (that drawl!).
Check out our interview with Art below to hear his solid defense (the first and only one we've ever heard) of Lorena Garcia's Taco Bell/Cantina Bell endorsement, his feelings on Top Chef Masters frenemy Chris Cosentino, and how he's bringing peace through food from Culver City to the West Bank.
The Braiser: So what are you working on here at NYCWFF and otherwise right now?
Art Smith: We did the Shake & Bake with Whoopi Goldberg, huge success. Hundreds and hundreds of pieces of fried chicken. It was really a lot of fun. Johnathan Waxman of Barbuto had his chicken there… I don't know what it is about cute boys and baking — Schmackary's made this candied yam gluten-free cookie with this burnt marshmallow thing on top… it was delicious. It was absolutely delicious.
I do believe the whole gluten thing is definitely what's happening. In fact, I think it's so much what's happening that I want to work on a dredge for the chicken. I think it's really gotten to the point now where people have expectations of that. I think people expect it because there's so many people that have celiac disease. I'm here today with Allison Adato (Smart Chefs Stay Slim). I wrote her foreword because I myself have dealt with my own health journey with diabetes. I'm kind of a poster child for it, so I've been an advocate. I have a big mouth and people don't mind listening to me. And then tomorrow, we're doing a multi-course tasting of fried chicken done different ways. We're going to have shallow pan-fried and, as we call it in The South, we're gonna smother it.
Last night, I had to make a mad dash to Washington where I hosted a dinner for Her Majesty Queen Noor. I'm a big believer that as chefs we have the ability to many things besides cook.
We just opened LYFE Kitchen in Culver City. Imagine going to a restaurant: no white flour, no white sugar, no fryer, vegan entrees, everything is gathered in a hundred-mile radius, nothing has been altered, and everything is all green. Big business understands that people want healthier choices and want to see healthier food across the market. We opened the first one in Palo Alto, CA which has become the favorite, Palo Alto named it the Favorite New Restaurant in Palo Alto and it got Best New Restaurant in the Bay Area, and it's fast food, or the more polite term, "quick serve."
Your relationship with Chris Cosentino was the talk of the season on Top Chef: Masters this year. How do you really feel about him?

It was a little bit of a bad romance. They called it a "bromance." Chris Cosentino is an amazing, talented chef who has worked with a medium that for many is revolting, but for many is exciting. The idea of using everything of the animal, it's sustainable, and the idea that you're not wasting this creature's life… he stuck to his guns. I mean, who ever thought someone would win with blood sausage? I'm proud of him. Mind you, not only is he a fantastic chef, but he is also eloquent with his words. He knows his craft up and down, he actually works on the line in his restaurant and is very descriptive in his cooking. I'm used to the whole [TV competition] chef thing, and we also know we both can take it. The only time I would get in a hissy fit was when I would get very protective of Lorena Garcia. When they were making certain comments about my girl…
There was a dichotomy with the competitors criticizing chefs like you and Lorena, who don't work on a line in your own restaurants and are more TV personalities.
Well, everyone loves to criticize success. Every one of those chefs thinks, "I would love to have that Taco Bell deal." Everyone in the world knew about Lorena and her Taco Bell story. Go, Lorena, go! She did this healthy thing and it's a huge success. If we are going to change the way America and the world eats, we cannot be little snits. We wouldn't have all that [unhealthy] stuff if we didn't want that stuff. We have to work with the corporate restaurants and help them. We're in this whole little Foodie Kingdom, but there are folks outside of that Foodie Kingdom that have never even heard of us. So, how do we reach them effectively? I told Lorena, "You could effectively change what people think of fast food." I love her for that.
I'm also proud of the fact that my friend Chris won with something that most of us wouldn't remotely want to think about eating, and he stuck to his guns. And I think when you care about something and you stick to your guns, that is true success. It ain't always going to be a smooth road. It's going to be bumpy, but you stay on that. And I'm willing to admit mistakes, we're all going to make mistakes. But for me, I love restaurants, I love cooking, but my ultimate prize is greater than that: food is peace.
Hillary Clinton established Chefs Corps, and we're going to Israel. Food always makes something bad better. People always say, "How did you meet that person?" Fried chicken. If you want people to come, feed them. If you want them to stay, feed them more. If you want them to fall in love with you and be there for you, keep feeding them. People love to be fed and want to be loved.
Have a tip we should know? tips@mediaite.com