Artist Paints over Own Mural at Mission Cantina after Danny Bowien Removes Signature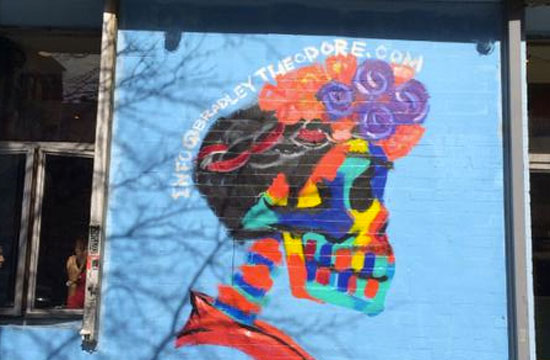 When Danny Bowien commissioned a giant rainbow skull mural of Frida Kahlo for his new restaurant, Mission Cantina, he probably didn't think it would case him controversy, much less suddenly vanish overnight. OH BUT IT DID.
After he realized that the artist, Theodore Bradley, had signed the mural with his email address (see Bowien's photo above), the chef asked him to remove it for fear that it would make the artwork look like an advertisement. Bradley refused saying that the email address was his signature. Bowien then made the mistake of painting over the signature himself.
Bowery Boogie soon came across a blank wall where the rainbow skull used to be, as well as one very pissed off Bradley. In an email, he told them that he wasn't "trying to advertise my services, I just wanted to paint and share it with my friends." But since Mission Cantina "didn't like the fact that my name or info was on it, [they] don't deserve to have my work on his wall! So I painted over."
Bowien took to Twitter to defend his actions:
@pete_wells Not a signature, his contact info, his email. That wasn't part of the agreement.

— james daniel bowien (@dannybowien) March 3, 2014
@pete_wells we made an effort to reach out since that wasn't a part of his proposed sketch. he was also paid. pic.twitter.com/t11k2LOInj

— james daniel bowien (@dannybowien) March 3, 2014
But regardless, he's chill with it, as always:
@pete_wells Either way, no hard feelings on our part. I'm sure there is something more exciting and delicious around the corner!

— james daniel bowien (@dannybowien) March 3, 2014
[h/t Eater NY]
RELATED:
Pete Wells Gives Mission Cantina One Star, Applauds Its Ability To Treat Poor People Like They're Fancy
Danny Bowien Looks into Full Time Burrito Restaurant
Danny Bowien's Valentine's Gift to You: Mission Cantina Delivers
Have a tip we should know? tips@mediaite.com