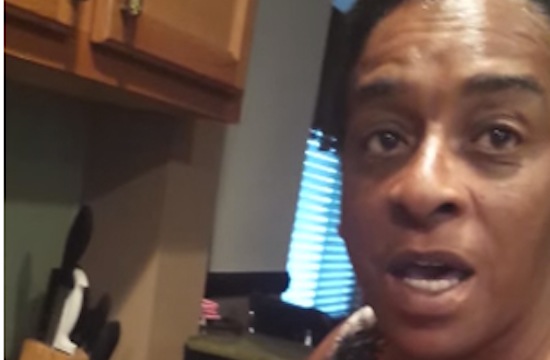 We too have sat at our laptops jaw dropped, laughing at inappropriate moments in coffee shops, and shaking our heads at the newest Internet sensation, Auntie Fee. We mean, the things coming out of her mouth are what we would call pure motherf*cking gold. Direct quotes from Auntie Fee's very, very viral videos (earning about 1.5 million views between them):
"Cook for three hours if you want it to fall of the motherf*ckin' bone—I swear this shit will."

"I tell you everything because I don't want you motherf*ckers calling me about a motherf*ckin' thing."

"I don't know what the fuck this is, okay? It's just something sweet for the fucking kids."

"This is parsley–dried parsley. This muthafucka make any muthafuckin' thing taste good."
In the same vein of Epic Meal Empire and Thug Kitchen before her, Auntie Fee is not here to put on a fake smile and whip up four-course meal — she's here to make some downright delicious-looking food, sass on the side. Naturally, it's made her the darling of the Internet, food blogs (like our bros at First We Feast, who have bowed down before her greatness), and Hollywood. We think Jimmy Kimmel and Orange is the New Black won't be the only stars knocking on her door for too long. She's earned her title as the "G" of the food TV.
So … why do we feel weird about Auntie Fee's sudden rise to fame? An explainer of all the Fee feels, ahead:
Why we love her: Let's be straight: Auntie Fee is the antidote to food TV. No one watches the Food Network anymore (or gives shows the one Food Network Star we'd actually watch), celebrity chefs on TV don't have the same staying power. And you can only watch Giada de Laurentiis whip up pasta for so long for wanting to crawl into a ginormous glass of wine wondering WHY IS MY LIFE SO COMPLETELY THE OPPOSITE OF THIS. Auntie Fee is real. And more importantly, Auntie Fee has found the Eddie Huang-esque niche that is working for her.
Why we cringe for her: Call it the Dave Chappelle-effect: is the Internet laughing with her, or at her? Where is our amusement coming from — and should we (generally white yuppie food bloggers ignorant of actual issues) be concerned?
Blogger Sandra Rose may be the only person rooting against Auntie Fee getting her own cooking show; she writes:
YouTube has an obsession with making Internet stars out of uncouth, uneducated people who are challenged by the English language. Remember Antoine Dodson and Sweet Brown? Most of these Internet stars have no real talent, but they do have a unique knack for making a spectacle out of the mundane. …

Auntie Fee's culinary skills are questionable — as is her penchant for preparing food on unsanitary surfaces such as counter tops and dirty kitchen sinks. Auntie Fee's kitchen would never pass a health inspection. But none of that matters. What's attracting to the masses is Auntie Fee's liberal use of profanity and Ebonics — which gives other cultures the opportunity to insult and belittle our community by elevating these people to star status.
Why we think Auntie Fee is here to stay: We asked Allen Salkin, the author of From Scratch: The Uncensored History of the Food Network (and smartest guy in the room), about Auntie Fee's earning potential. If anyone should know whether or not Auntie Fee has a future in food TV, it's Salkin. The verdict, according to Salkin: It's not about cable, damnit.
"No, Scripps, the Tennessee-based owner of Food Network and Cooking Channel, isn't going to give her a 13-episode contract like she's the motherf*cking Barefoot Contessa," said Salkin in an email. "If she's not safe for work, she's not safe for them. But she's got earning potential for sure.
Cable is no longer the only game in town, in case someone didn't get the damn memo. A better question is how much money she's going to make when platforms like Tastemade.com and Sorted Food get a hold of her, pair her with advertisers — maybe a whiskey brand? Maybe a spatula company? — and start sending her checks. I just hope one of the brilliant minds like those who helped make Emeril a household name when Food Network was the cutting edge will get a hold of her and guide her to a promised land of such riches that she can buy a Lamborghini — and a better stove."
The earning potential is very real for Auntie Fee, said Salkin. She's already got a "real" cooking show on Youtube; if she were given her own web channel, a la Paula Deen, the possibilities only grow from there. "I wonder if someone gave her a well-promoted Web channel of her own if she'd earn more money than Paula Deen's channel?" he said. "I'd bet on Auntie Fee. Even her name sounds like someone who was born to be rich? Fee? That's gold."
If Salkin gives the thumbs-up, we're inclined to do the same.
Why we know Auntie Fee will be a G no matter what: Because she takes on the haters out there.
In conclusion: This is just the beginning of Auntie Fee — perhaps another pioneer in a new definition of food TV and celebrity chefs. Keep teaching us how to cook on the cheap and make us laugh doing it, Auntie Fee (because $3.35 to feed an army of seven is pure genius for our exceptionally broke kahunas).
[Youtube, First We Feast, TMZ, Sandra Rose, Youtube]
Have a tip we should know? tips@mediaite.com