Australian Politician Wants Country to Boycott Ben & Jerry's for Trying to Save the Great Barrier Reef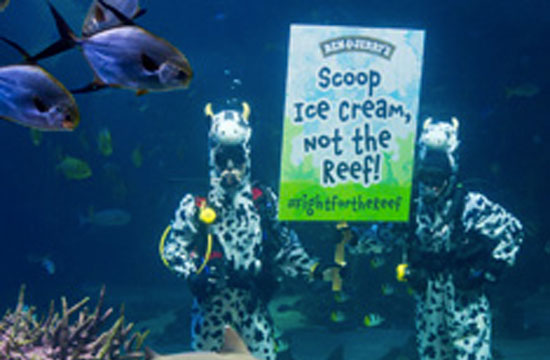 Recently, Ben & Jerry's announced that they would support the World Wildlife Foundation's "Save the Reef" campaign to, well, save the dwindling Great Barrier Reef. This should generally be considered a noble conservation effort aimed at protecting one of the world's most stunning wonders, and totally something that Ben & Jerry's would do.
Except an Australian politician was so enraged at these efforts that now he wants to ban the ice cream from the country, because how dare an ice cream company support the effort to protect the Great Barrier Reef.
"Another company has signed up to the campaign of lies and deceit that's been propagated by WWF," said Environment Minister Andrew Powell in a statement to the Courier Mail. "The only people taking a scoop out of the reef is Ben and Jerry's and Unilever [Ben & Jerry's parent company].If you understand the facts, you'd want to be boycotting Ben and Jerry's."
So what are the facts, Mr. Powell? He claims that the comments and actions taken by WWF and Ben & Jerry's has damaged the Reef's reputation and jeopardized thousands of tourism jobs (and also that sweet tourism money). The two groups have claimed that constant dredging, pollution, and traffic from international shipping have eroded the Reef, and the government's recent decision to dump three million cubic metres of dredge spoil in the UNESCO World Heritage site and park could smother the coral to death.
To raise awareness, they've toured Australia, giving out free ice cream (except for Phish Food, which symbolizes what will happen to the phishes when the Reef dies). We're thinking Mr. Powell just didn't get free ice cream.
(We're ready for your hate mail, Australian government.)
RELATED:
10 30 Rock Flavors Ben And Jerry's Should Have Used Instead
WATCH: Jon Stewart Helps Rob Pattinson Sort Through Breakup Feelings With Ben & Jerry's
41 Ice-Cream Themed Pornos That Will Never Get Made Because Ben & Jerry Are Killjoys
Have a tip we should know? tips@mediaite.com