Because Dining in New York City is Never Safe, Huge Fire Engulfs Midtown TGI Friday's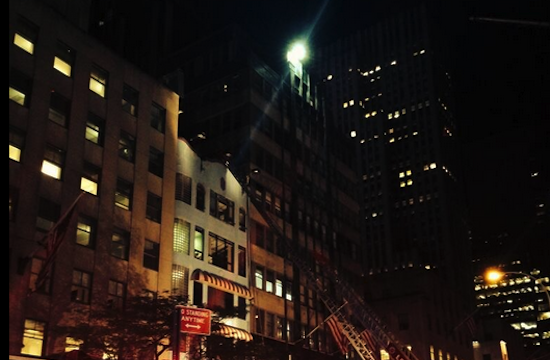 As if midtown dining in Manhattan wasn't tragic enough (re: Guy Fieri), a TGI Friday's shot up in flames on Friday night, evacuating buildings while more than 100 firefighers fought flames.
It was a three-alarm fire, reports CBS Local, enveloping the building with smoke and flames and shutting down traffic. (Fortunately, neighboring office buildings had mostly been emptied for the weekend.) And uh, yeah, it looks and sounds terrifying:
"Flames just started shooting out like crazy. It was unbelievable," a witness, Betty, told WCBS 880's Jim Smith.

One dramatic video showed taken from inside a nearby skyscraper shows flames shooting out of the top of the six-story building. Another vantage point was around Rockefeller Center, where witnesses ran up the block to get a closer look.
Fire Rages At Midtown TGI Friday's Restaurant http://t.co/x3M7jDXhzY pic.twitter.com/VjT1e2B9hZ

— EverythingNYC (@EverythingNYC) June 7, 2014
Because nothing screams "loving life traveling the world taking in New York City" than rushing to a tourist attraction to watch a building go up in flames. Anyways …
The fire began in the restaurant's basement; NBC New York reports that there was a malfunction in the ducts during maintenance. The fire spread "through the duct up to the roof, where it spread to a connecting duct in the building next door." So yeah, let's head downtown, shall we?
RELATED:
"TGI Fridays Launches Food Truck, The Medium Is Officially Dead
Dairy Queen Insults Staten Island by Forgetting They're Part of New York City
More On Per Se C-Grade-Gate: 'No Restaurant Worth Its Soul Could Pass the Test'
Have a tip we should know? tips@mediaite.com