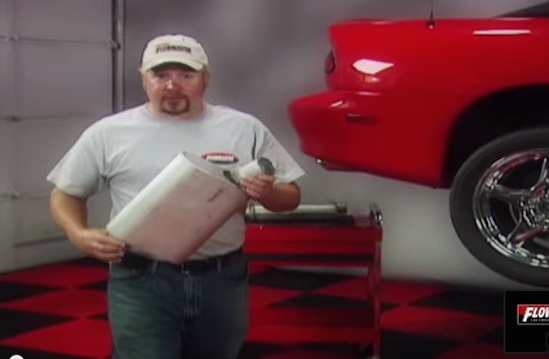 Screw the Photoshopped-hair-nightmare of Guy Fieri, let's watch the man sell some mufflers!
Eater shares these absolute gems of early career muffler commercials, starring yours truly. The commercials were for a "small Northern California muffler company called Flowmaster," where the no-name actor talks about … car things? (We don't understand cars much.)
We guess this sort of makes sense; Fieri's love of cars is hardly a big secret. Why not use some of that TV pizazz to sell a few mufflers?
But then we got to thinking: what else did Fieri do pre-Food Network fame? We turned to his biography to find out:
This likeable, laid-back California guy with his trademark bleached-blond spiky hair began his love affair with food at the age of 10, selling soft pretzels from a three-wheeled bicycle cart (named "The Awesome Pretzel") he built with his father. By selling pretzels and washing dishes, Guy earned enough money in six years to study abroad as an exchange student in Chantilly, France. There he gained a profound appreciation for international cuisine and the lifestyle associated with it. Guy attended University of Nevada Las Vegas, where he graduated with a bachelor's degree in hospitality management.
We were hoping for more of a salacious pre-TV career ourselves, but we'll take awkward commercials too.
RELATED: Let's All Collectively Freak Out Over Guy Fieri With Normal Hair
New Ranking Of Highest-Grossing Restaurants Makes Us Never Want To Be a Restauranteur
Allen Salkin on FN's Culture Crisis: 'The Network Itself Doesn't Know What A Food Network Star Is Anymore
Have a tip we should know? tips@mediaite.com