Behind The Scenes At Rene Redzepi's Pop-Up At Claridge's: The Perils Of Foraging Enough Ants For 3,500 People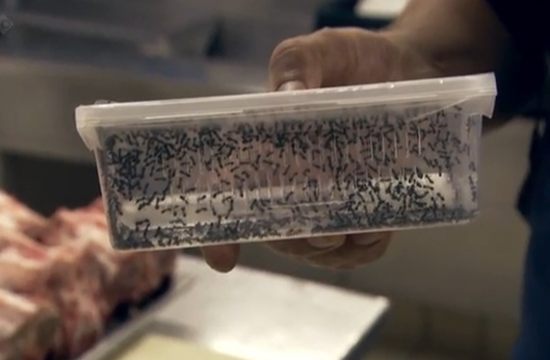 Earlier this summer, the London hotel Claridge's played host to Rene Redzepi and his team from Noma, in a pop-up that lasted for ten days. While they'd taken over the hotel's kitchen, though, they were being followed by a camera crew from the BBC, who had been filming a documentary series about the legendary hotel for a year. As a result, much of the behind-the-scenes action from the pop-up made its way into Inside Claridge's — with some things you may have never known before about Noma.
Chief among them is the revelation, sort of obvious in retrospect, that Redzepi has an ant forager. (How else are you supposed to get the ants?!) Since 3,500 people dined at Claridge's, over 27,000 ants had to be foraged and delivered to London — and all attempts to do so via the post resulted in boxes full of dead ants. Thus, Thomas Larsen, professional ant forager, hand-delivered them to Claridge's himself.
All the ants were "mouth-sucked" by Larsen, one by one, as he said in the documentary (video provided by Eater). It took him a couple of days to harvest one particular shipment, so "my throat's a little sore," he laughed.
"You can't suck them when they put out the acid, it's so hard," he explained. "You'll cough, and then it'll be like, having your first cigarette ever…it's been hard work. I'm not used to getting that many. That's really a lot."
But it's worth it, apparently: they taste somewhat like a cross between orange, lemongrass, and ginger. That actually sounds like a delicious soda! Except the soda is made of ants, and you have to suck them through a straw. Goodness, we feel your pain, Larsen.
Have a tip we should know? tips@mediaite.com