41 Ice-Cream Themed Pornos That Will Never Get Made Because Ben & Jerry Are Killjoys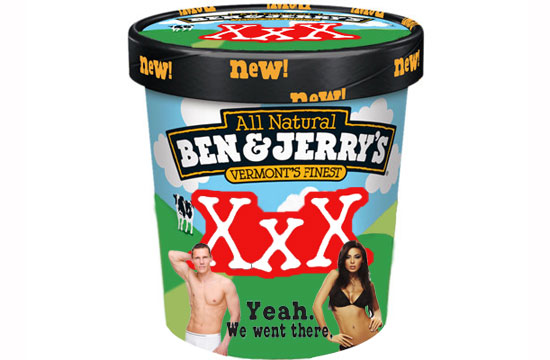 You may have heard on the internet, that Ben & Jerry's have successfully blocked the production of porn DVDs with titles inspired by their ice cream flavors. Such blockbusters as Chocolate Fudge Babes and Boston Cream Thighs are not happening now, because B&J (cough) slapped Caballero Video with a trademark infringement case last September for blatantly playing off of the sweets behemoth's titles.
The agreement Ben & Jerry's came to with Caballero covers an across-the-board no-can-do on labels, packaging, and advertising that mimicked their tie-dyed Vermont hippie vibe (which in real life has turned on approximately zero people).
Our first thought on reading this news was, "Chocolate Fudge Babes? That's the best they can do?" So we've polled our office, which includes the editorial staffs of eight Abrams Media sites. After an auditory shockwave of Beavis and Butthead idiot-giggles coursed through the office, some pretty great ideas came out.
These are inspired by actual Ben & Jerry's flavors which often work as porn titles on their own (ahem, Karamel Sutra), so forgive us for getting a little creative. Just remember before assembling your crack team of amateur ice-cream enthusiast porn producers, you will be sued if you try to make any of them.
Boston Cream'd In Her Pie (Sequel: On Her Face)
You Give Me A Chubby Hubby
Everything Butt The…
What a Thruster
Spunky Monkey
Liz Le'Moan
Tight Russian
Teet Cream & Nookie
Sin In My Buns (French Re-release: Sin In Mon Buns)
He Nut On My Brittle!
Just the Chip
S&M&Ms
Dough-Not Tonight (rejection porn)
S'Whores
Lemonade Stand-ing, Sitting, in the Tub, on the Bed, Wherever
Late Night Snatch
Milk and Nookie
Chocolate Chip Cookie Dough Me From Behind
Pop My Cherry, Garcia
Rocky Chode
What a Cluster-f*ck, Vol. 5
Beefcake Batter
Americum Dreams
Journey to the Center of Her Cinnamon Buns
My Chubby Chaser Hubby
Half-Faked (sad porn!)
Vanilla, Caramel + Chocolate: The Sweetest Swirl
Chocolate Chip Cookie Blow
Cinnamon Buns 14: Sticky Balls
Peach Gobbler
Pocket Rocket BuzzBuzzBuzz (solo porn!)
Half Porked
Chocolate Fudge Brown-Bears (niche gay porn!)
Sweet Cream & Her Cookie
C*mmy Monkey
Banana And The Splits
Phish P00n (Vermont hippy porn!)
New York Super F*ck Chunk
Chocolate Sex Therapy
AmeriCone-Bra Dream
Chocolate Chip Cookie Dohhh-OHHH-OHHHHH
If you're already screen-testing neighbors for an ice-cream themed porno of your own, be sure to share the title with us — and no other details! — in the comments section. Now let's all cool off with a nice cone.
[h/t Huffington Post]
Have a tip we should know? tips@mediaite.com