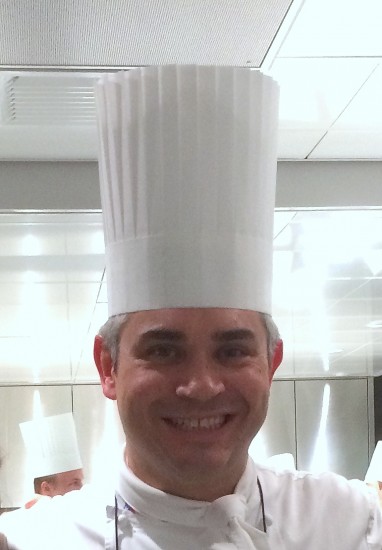 Benoît Violier, a top French-Swiss Chef whose restaurant has been celebrated by French critics as the best in the world has been found dead in an apparent suicide. Together with his wife, he ran Restaurant de l'Hotel de Ville in Switzerland, where he has worked since 1996 and run since 2012. The restaurant has three michelin stars and was named the #1 restaurant on La Liste, a ranking of 1,000 restaurants by French critics, this past December.
According to the New York Times, a statement from the Swiss Police says "It would seem that he has ended his life with a firearm."
Patricia Zizza who knew Violier, told the New York Times that chefs often feel pressure to succeed, and that it's possible Violier's early success weighed on him.
Additionally, Violier lost his mentor and friend last year. Philippe Rochat who ran Restaurant de l'Hotel de Ville before Violier died after he became ill while cycling.
Since news broke on Sunday, celebrity chefs and members of the food world have taken to Twitter to express their sadness and the loss they feel:
Andrew Zimmern:
Sad news to wake up to. What an immense talent and what a great man he was. Very kind to me.@kittenwithawhip https://t.co/sEgQy7VGAw

— Andrew Zimmern (@andrewzimmern) February 1, 2016
James Martin:
So sad to hear of Benoit Violier. One of the world's best pic.twitter.com/LggH92mfcJ

— James Martin (@jamesmartinchef) February 1, 2016
Del Posto:
Our thoughts and prayers are with Benoit Violier's family, friends, and the team at Restaurant de l'Hotel de Ville.

— Del Posto (@DelPosto) February 1, 2016
It's a real loss for the culinary world. We'll keep you updated with any developments.
[Image via Wikimedia Commons]
Have a tip we should know? tips@mediaite.com