Betting on Top Chef Duels, Episode 8: Stephanie Izard Versus Kristen Kish (Updated with Winner)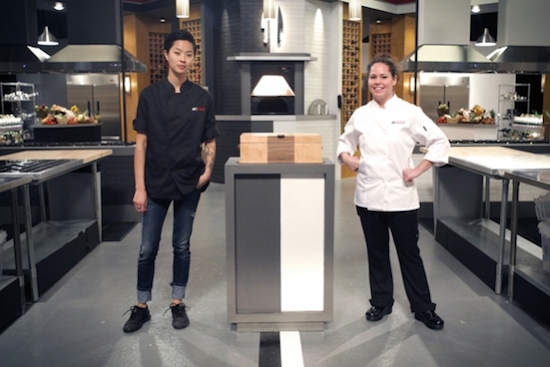 Because there's never enough Top Chef, so says Bravo, we are now privy to the newest of the franchise spin-offs: Top Chef Duels. Let's get the cockfight going and see who wins these battle of the brawn — er, culinary challenges — of the season.
From Bravo:
This is the ultimate showdown between the only two female chefs to ever win Top Chef. First, Stephanie challenges Kristen to take it to the streets Thai style, while Kristen pushes Stephanie out of her comfort zone and into fine dining by making an upscale pasta dish. Then for the Duel, it's a clash of rustic versus refined cuisine as the chefs lock horns in a showdown of biblical proportions themed around the Garden of Eden.
Editor's Note: Have the producers of Top Chef really just run out of themed challenges already? WTF, Garden of Eden? Izard's look when staring at a massive python wrapped around a prop tree says it all.
Accolades Between the Chefs: Well, yeah, they're both Top Chef winners. Huzzah! Izard, being the first female Top Chef winner, has had her time in the sun: she was named Food & Wine's "Best New Chef" and James Beard Foundation's "Best Chef: Great Lakes." She's also the executive chef and parter of Girl & The Goat and Little Goat, maybe you've heard of them? Kish, on the other hand, has a Barbara Lynch kitchen job to put on her resume.
Number of Predicted Meltdowns Between the Two Competitors: Well, Kish is evidently afraid of snakes, so maybe that's a snake-inflicted meltdown. Otherwise, we don't see either chef caving under pressure.
Will This Make for Good TV: YES. This is the food TV we've been waiting for!
Who Would Win in an Actual Food Fight: Too tough to call, we think they'd both be fierce competitors.
Who Will Win: This may be the toughest competition to judge yet. Both are talented, innovative chefs unafraid of the pressures of the kitchen. As the videos predict, Kish is finely attuned to "refined" dining, while Izard has the "rustic" down, which is why we're ever so slightly learning towards Kish as the winner in this battle. Then again, we have no problems in being wrong and Izard stealing the show. This will be the match-up to watch this season of Top Chef Duels.
Share with us who you think will win this episode — or who would win in an actual food fight.
*Update: We were wrong! Congratulations to Izard (and a serving a humble pie for us, please).
[Bravo]
RELATED: Betting on Top Chef Duels, Episode 7: Jennifer Carrol Versus Nyesha Arrington (Updated with Winner)
Betting on Top Chef Duels, Episode 6: Dale Talde Versus Tiffani Faison (Updated with Winner)
Betting on Top Chef Duels, Episode 5: David Burke Versus Takashi Yagihashi (Updated with Winner)
Image via Bravo
Have a tip we should know? tips@mediaite.com