White House Executive Pastry Chef Bill Yosses Wins Food Arts Magazine's 'Silver Spoon' Award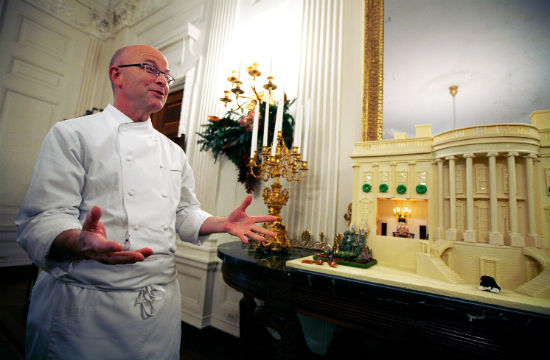 For all the times we're forced to write about bakers like Buddy Valastro offending the trans population at large or Duff Goldman's refusal to bake cakes in the shape of babies, we'll let the negative connotations of "Silver Spoon" slide in order to celebrate White House Executive Pastry Chef Bill Yosses' shoutout from Food Arts Magazine. Of course, his full title is a mouthful, and while we prefer going the acronym route and referring to him as WHEPC Bill-Yo, The Bossman/POTUS/Commander-in-Chief just calls him "The Crust Master." (Which, like — of course that's what President Obama calls Bill Yosses.)
He claims the award in the September issue (ooh la la, so fashionable of Bill), which outlines him being honored "for his stellar contributions to the culinary profession as a groundbreaking American pastry chef, a staunch advocate for healthful food choices, and a generous mentor."
What's that you say? A pastry chef being recognized for his healthful food choices? Slow your roll, haters. He's what Obama Foodorama calls "an enthusiastic ambassador" for Michelle Obama's Let's Move Campaign, and even has a few recipes shown off in her cookbook American Grown. Lady O endorsed, y'all!
He's also pedigreed to the extreme, French trained, climbed the ranks alongside the likes of Daniel Boulud and Thomas Keller, served a stint at elBulli just before it closed, and is now talking about food science at Harvard, NBD.
We at The Braiser probably would have saluted Bill Yosses with a Fancy Pants Award, but since we don't have awards, and Food Arts Magazine does, we'll allow him to graciously accept theirs with no further judgment.
Have a tip we should know? tips@mediaite.com