Billionaire Accused of Insider Trading Once Paid $100,000 to Be Guy Fieri's Friend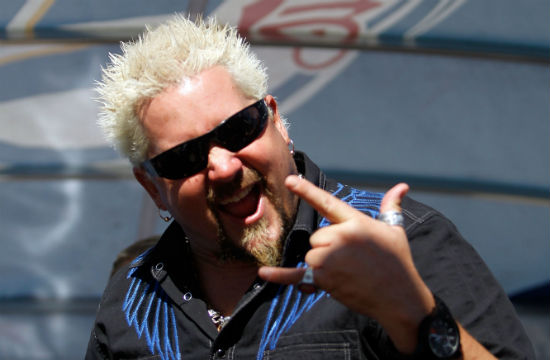 We've been mentally preparing ourselves for the revelations from Allen Salkin's new book, From Scratch: Inside the Food Network, for months. (Months.) And so far, our favorite leak is this incident, reprinted by Page Six: once upon a time, Guy Fieri got paid serious cashmoneys to be someone's friend.
Steve Cohen, who Forbes lists as the 117th richest man in the world, once paid Fieri $100,000 to be his magical talking teddy bear "friend for a day" and live out a fantasy episode of Diners, Drive-Ins and Dives. As far as we can tell, this wasn't for a charity event, meaning that Cohen actually approached Guy Fieri with a suitcase of cash with the intention of making Guy Fieri take him to Flavor Town, CT. And also, we just learned that Guy Fieri can be bought.
Maybe they ended up sincerely liking each other, or maybe Cohen paid Fieri more money to be his friend, because according to Salkin, they kept in touch:
But after "Cohen paid Guy Fieri $100,000 to be his friend for a day," Salkin writes the odd couple became so close that the chef's top-rated show even featured Cohen's favorite hot-dog spot, the (perhaps appropriately titled) Super Duper Weenie. The popular joint in Fairfield, Conn., offers hot dogs at $3.75 a pop, guaranteed to get any hedge funder through hard times.
PS: This is the same Steve Cohen whose hedge fund is being investigated for criminal insider trading, and will probably pay over $1 billion to the SEC as a settlement, one of the biggest settlements ever. This man is the greatest friend a kool kat like Fieri could ever have. (Or is it the other way around?)
On a related note, how many friends does it take to buy a Lamborghini?
[Page Six]
RELATED:
Trial for Thief of Guy Fieri's Lamborghini Begins, Sounds Like Bad Prison Break Episode
WATCH: Guy Fieri Becomes Rolaids Spokesperson
Guy Fieri Reaches 1M Twitter Followers, Is Described on Wikipedia as 'Genocidal Member of the US Supreme Court'
Have a tip we should know? tips@mediaite.com