Michelin-Starred Chef Runs Sweden's Twitter Account, Is Bombarded With Muppet Jokes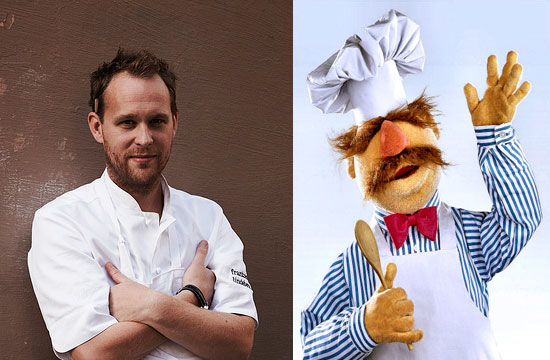 Every week, Sweden chooses one of its numerous citizens to serve as the official Voice Of The Country for a week — meaning that they get to use the country's official Twitter account, and they can tweet anything they want. Really. Anything.
This week, the official Voice Of A Nation is Björn Frantzén, who has two Michelin stars as the chef of Frantzén/Lindeberg in Stockholm, and he tweets some really awesome things from his kitchen. (For instance: did you know that it takes five tons of apples to make one liter of appleseed oil? Did you know that appleseed oil was a thing?)
As the only other chef in Sweden with two Michelin stars, Frantzén should by all rights be known as Sweden's most famous chef. Sadly, as the official voice of Sweden, he spent day one being bombarded with harmful, derogatory jokes stereotyping the Swedish people.
More then impressed about how many "Swedish chef" jokes one can get in a day! Well done guys!

— @sweden / Björn (@sweden) August 28, 2012
I'm sorry to inform you. But as far as I know, no one in Sweden really cares about the Swedish chef from The Muppets…Okay? — @sweden / Björn (@sweden) August 28, 2012
Thank you guys! But I HAVE already seen the article about "the Swedish chef" online. I really enjoyed it the first 3762 times…;)

— @sweden / Björn (@sweden) August 29, 2012
ABBA is great, if you are a senior citizen! And @kenttheband best song on the new album is "Färger på natten". Okay?

— @sweden / Björn (@sweden) August 29, 2012
OK, calm down people! Swedes does not operate our own hearts and only eats reindeer penis. I had a heart surgery done by a doctor. Still 42€

— @sweden / Björn (@sweden) August 28, 2012
In addition to dispelling any degrading notions about the Swedish identity, Frantzén is also answering questions, both in Swedish and English, about cooking and eating like a two-star Swedish chef. Just don't ask him anything about chocolate mousse or IKEA lingonberries and you'll be fine.
Have a tip we should know? [email protected]