Bloomberg Business Blames Paula Deen Scandal On Her 'Boorish,' Irresponsible Brother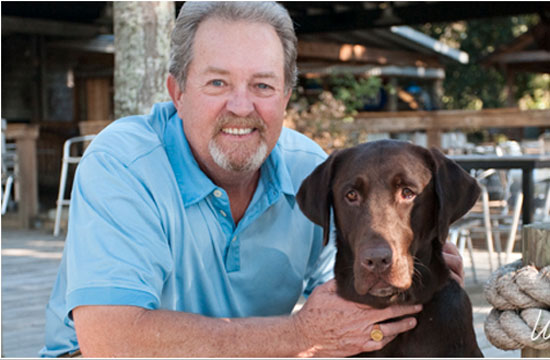 We've received dozens of comments arguing that Paula Deen's usage of the n-word a few times in her life shouldn't immediately result in the loss of millions of dollars of corporate sponsorship, and whatever our feelings on that matter, we should point out that the scandal's initial spark had nothing to do with what Paula herself said, but what her employee and brother, Earl "Bubba" Hiers," did — namely, be the horrible boss that led Lisa Jackson to file a lawsuit against Hiers and Deen.
A recent Bloomberg Business profile analyzing the rise and fall of Deen brings Hiers's background to light: taken in by Deen and her ex-husband at the age of 16 after the death of their mother, Hiers was at a dead end when Deen offered to employ him in her growing culinary empire. Together, they opened Bubba's Oyster House in Savannah, GA, and while Deen retained a 51% controlling stake in the company, she was rarely present, leaving Bubba to oversee the day-to-day operations, though he ran the restaurant unsuccessfully until Jackson was hired:
According to the lawsuit, Uncle Bubba's was losing money until Jackson took over managing the restaurant in 2005. Within six months, she claims, the restaurant started to show a profit. For her money-saving abilities, according to Jackson, Hiers called her "my little Jew girl." Jackson, who is white and Buddhist, says she spent much of her time trying to save the restaurant and its staff from Hiers and his bullying. She alleges that he began every workday at 10 a.m. by pouring himself a Styrofoam cup of whiskey. According to Jackson, he would then begin viewing pornography on restaurant computers, sometimes instructing Jackson to take a look and leaving a kitchen computer screen open to raunchy sites.

Hiers denied these allegations but in a deposition admitted to boorish behavior…Deen's brother also admitted to invoking the n-word at work, including in reference to President Obama. While he denied alcohol addiction, he confirmed he had been in rehab for cocaine and alcohol abuse in the past and that he drinks at work. He testified that at home he consumes a gallon and a half of Jack Daniel's each month. He also confirmed that he'd taken money from the restaurant—some $30,000—that Jackson later discovered and reported to the corporate accountant.
Although managers and an outside consulting firm recommended that Deen remove Hiers from his position, Deen "stood by him defiantly," leading her to being held implicitly responsibile in the lawsuit. "'Paula's the alpha and the omega, the beginning and the end,' Hiers is quoted as saying in his sister's memoir. 'There ain't nothing ever going to separate us but death.'"
Or a lawsuit. But yeah, the entire read is a strong argument for why it is that Deen's getting crucified by corporate America, summed up by Jackson's own grounds for bringing the lawsuit (emphasis ours):
Her gripe is that Deen didn't intervene to keep Hiers from harassing his own employees. By not acting, the complaint alleges, Deen "ratified" and "actively enabled" her brother's obnoxious conduct.
[Bloomberg Businessweek via Grub Street]
RELATED:
Paula Deen's Latest Defense: The Woman Suing Her For Racial Harassment Is White
The Woman Suing Paula Deen Speaks Out For The First Time: 'I Am What I Am'
Paula Deen Defends Use Of 'N-Word', Wants Black Employees To Dress Like Slaves (UPDATED: And She's Fired)
TMZ Obtains Paula Deen's 'N-Word' Transcript, Her Lawyers Respond (UPDATED With Full Transcript)
Have a tip we should know? tips@mediaite.com