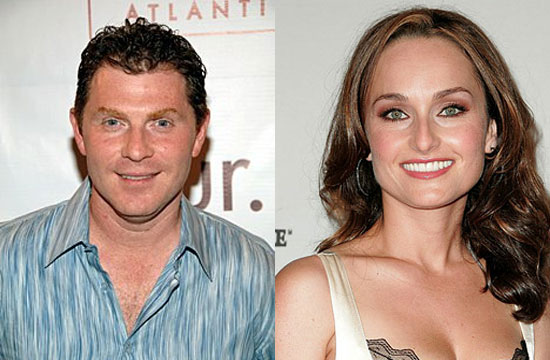 The longer we spend cyber-stalking Bobby Flay, the more we love him. And, after that totally charming and successful ambush makeover he gave one of his employees with Giada De Laurentiis for The Rachael Ray Show, we're actually kind of stoked that the wheels are in motion for him and his fellow Food Network Star mentor to host their very own talk show.
Unfortunately, it's still quite a ways away from airing. While both Giada and Bobby have signed on, and CBS has agreed to distribute it, TV-land requires a bunch of other factors to fall into place before housewives everywhere can add Bobby and Giada to their pinot grigio-sipping coffee-sipping morning routine.
"We've shot what they call a sales tape. Then [CBS has] to go out and sell it to affiliates, they need 80-85% of affiliates to sign off. If that then happens, they have to find real estate for it," Bobby told Eater at the Food and Wine Classic in Aspen this week.
His earliest estimate for when she show will find a home on air is September 2013. So what's B-Flay up to in the meantime? Trying to reopen his 3-starred Spanish resto Bolo, which closed in 2007 when the lease on their space ended and they couldn't pull off a suitable relocation.
"I want to find a new space badly for Bolo in New York this year," he dished. "I am going to Barcelona next week with my daughter. I'm going to come back raring to go for Bolo."
Busy bee!
[Eater]
Have a tip we should know? tips@mediaite.com