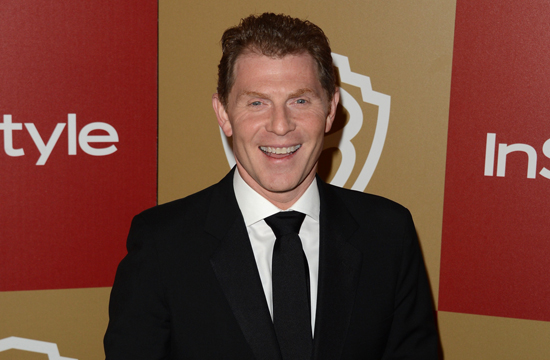 Poor Bobby Flay. Will he ever find a winning formula for a television show that isn't Throwdown!, or where he doesn't have to share the stage with the rest of the Food Network stable? When will the American public let him take his light out from underneath that bushel, and let him shiiiiiiiiiine? 
It might not be for a while, sadly: he recently told MyRecipes.com that his latest show, Bobby's Dinner Battle, was done after five episodes. "I just don't think it was interesting," he explained. "We're not doing it again." Food Network Gossip points out that last year, his show Three Days to Open was canceled after six episodes; we would like to pile on the snark mound by looking at Wikipedia and noting that a lot of Flay's starring vehicles on the Food Network have been canceled.
What, however, is replacing it? What new groundbreaking show could Bobby Flay pull out of the magical Tex-Mex space between his ears? "I am doing a new version of Throwdown!" he announced. "I'm pumped about that. Details aren't out yet but it's going to be good. People really liked that show and want to see more; this is a new spin on it."
We're racking our brains as to what he meant, and we only have one possible solution: it will be Throwdown!, except everyone will be spinning.
The grills are spinning. The meats are spinning. Really fast. Not gently, like a rotisserie, evenly bronzing a delectable chicken to a crisp, but like a NASA centrifuge. Bobby and his sweet, small-town piemaker opponent are spinning, cooking inside teacups at Disneyland. The judges are spinning, attempting to eat, but vomiting food everywhere due to nausea, splattering the Throwdown! set like a Damien Hirst painting.
Throwup! With Bobby Flay? Now that would be groundbreaking.
UPDATE: Mr. Flay himself reached out to comment on our post. Here's what he had to say:
Bobby's Dinner Battle and 3 Days To Open were always meant to be one-time short mini series to fill some scheduling voids. They were never supposed to be full time series and won't be "cancelled". They can certainly be brought back at any time and may be. The ratings were actually very good on both.
Personally, the shows I like to do on the Food Network are the ones that I cook on. Iron Chef, Throwdown, BBQ Addiction , etc. So when committing to a long run series, it will almost always involve me at a stove somehow.
[MyRecipes.com via Food Network Gossip]
Have a tip we should know? tips@mediaite.com