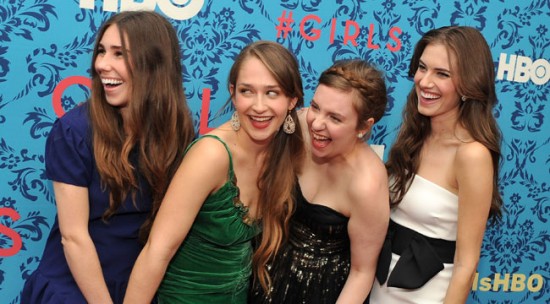 So you either love Girls and are convinced that you and Lena Dunham are soultwins, or you hate it. Chef Bobby Flay falls into the former category. No, seriously.
While on the Food Network Star premiere press junket, Bobby took a minute to gush over his celeb crush Lena and her "brilliant" new HBO series. Asked by HuffPo about a recent tweet he wrote while tuning in, Bobby replied"
"Oh my god — how brilliant is that show? Did you watch it this Sunday? Our favorite scene this week was when she went into the bathroom at work and talked to those two girls…It was ridiculous. Like we watched it three times. How amazing is [Lena Dunham]? What is she, 26 years old? She's brilliant. And the thing that she's so good at…I mean, it's her, let's face it, she's on TV and she's writing this stuff for herself. Her self-deprecation is amazing. It's amazing that she's so confident to be able to do that."
Whoa, fanboy much? He literally sounds a 14-year old describing her passionate love for all things Lena. Take note of her self-deprecation, future Food Network Star contestants, and channel it if you happen to find yourself on his team. Anyway. We think it's cute, we really do. So, what else is B-Flay watching with the wife these days?
"We watch Mad Men, we watch Girls and we like Veep also. I started watching Magic City…I'm waiting to get into it. We'll see what happens," he dishes.
Bobby Flay is like, totally a Game of Thrones nerd waiting to be born. We can sense these things. Who knew he was such a TV buff?
Have a tip we should know? tips@mediaite.com