UPDATE: Bobby Flay Turns Down Dancing With The Stars, Geoffrey Zakarian Offers To Replace Him
UPDATE: Bobby Flay Turns Down DWTS, Geoffrey Zakarian Offers To Replace Him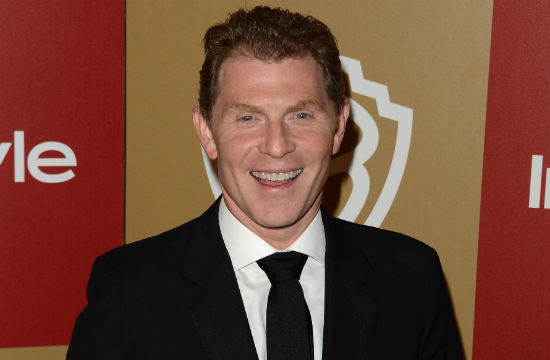 Dancing With the Stars announces its cast for Season 16 on Good Morning America next week, but Hollywood Life is reporting that they have three cast members exclusively confirmed: current, born-again virgin Bachelor Sean Lowe, USA Olympic Gymnastics Team champion Aly Raisman, and Bobby Flay.
Obviously this is the best news we've heard all year. We've needed an excuse to get into DWTS and after Ryan Lochte bailed last season, we feared another opportunity would never come. And yet, here we are. About to embark upon our maiden Mirror Ball voyage. With Bobby Flay. The only thing that would make this news better is if Stephanie March was also competing this season for a spouse-off.
We'll keep you posted when the official announcement is released next week on whether or not B-Flay made the cut, but, for now, you're welcome for delivering the best maybe-baby ever.
UPDATE: This maybe-baby news has been aborted. Bobby Flay was apparently offered a spot on DWTS, but turned it down on the grounds that he wanted to be known as a chef, and not as "that guy from Dancing With the Stars." How noble of you, Robert. On the plus side, fellow Iron Chef Geoffrey Zakarian offered to take his place. Check out this excerpt from a talkback they did this morning at the SoBe Wine and Food Festival, courtesy of Zagat:
Bobby Flay: So I'm telling these guys this story this morning and out of nowhere I hear this from Zakarian: "I would love to do Dancing With the Stars!"

Michael Symon: He just wants to wear all the outfits.

Bobby Flay: If there's any talent bookers for ABC he's willing.

Geoffrey: I understand what you're saying. I want to preface it by saying I've been never been to your office and I've never asked you for advice and you've never asked me for fashion advice. [Re an earlier convo.]

I really like that show and I think it's cool. I don't have a problem with losing. Dancing with the Stars is not about winning or losing.

Bobby: My wife told me that she would divorce me if I did it.

Michael: Have any other chefs been on it?

Bobby Flay: Rocco DiSpirito has been on it.

Geoffrey: Ok, maybe I won't go on it.
[Hollywood Life h/t Eater, Zagat]
Have a tip we should know? tips@mediaite.com