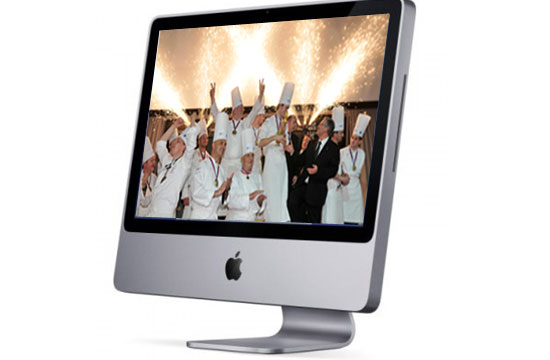 If you've always wanted to watch the Olympics of the culinary world, but couldn't afford to go to France or wait for the promotional DVD, the Bocuse d'Or USA Foundation has solved all your problems: they will livestream the competition online, straight from Lyon, France.
But if you want to cheer Team USA and Chef Richard "Batman" Rosendale to victory, a fair warning: he's competing on January 30th…at 3 AM EST. Those dratted time zones! Nevertheless, it's gonna be worth it, guys. USA, Number One.
The full press release and schedule of the 2013 competition can be found below.
New York, NY (January 17, 2013) — The Bocuse d'Or USA Foundation announces that the renowned Bocuse d'Or culinary competition, held every two years in Lyon, France, can be viewed live online at www.bocusedorusa.org/bdo2013 beginning Tuesday, January 29, 2013. The international competition, named after legendary French Chef Paul Bocuse, seeks to identify the world's top competitive chef. Viewers will have the opportunity to watch USA Chef Richard Rosendale and Commis (assistant) Corey Siegel compete against teams from 23 other nations. Team USA will be cooking on January 30 from approximately 3:20 am – 9:00 am (EST).
The Bocuse d'Or viewing schedule, which spans two days and includes the awards ceremony, is below. Please note that times are approximate and subject to minor changes.
Day One of Competition
Tuesday, January 29, 3:00 am – 10:00 am (EST)
Competing Countries: Iceland, Sweden, Singapore, China, Brazil, Morocco, Netherlands, Finland, Canada, Belgium, Mexico, Guatemala
Day Two of Competition (Team USA competes on this day in kitchen #9)
Wednesday, January 30, 3:00 am – 10:00 am (EST)
Competing Countries: Denmark, Sri Lanka, Estonia, Australia, Italy, Switzerland, France, United Kingdom, USA, Norway, Hungary, Japan
Awards Ceremony
Wednesday, January 30, 11:30 am -12:30 pm (EST)
Chefs Rosendale and Siegel have been training extensively for this five-and-a-half hour competition since winning the Bocuse d'Or USA Finals at The Culinary Institute of America in January 2012. Over the course of the past year their training (click here for photos) has included physically and mentally demanding timed practice runs in a dedicated mock Bocuse d'Or kitchen in the bunker of the Greenbrier Resort in West Virginia, as well as working visits ("stages") at The French Laundry in Yountville and Alinea in Chicago.
The Bocuse d'Or USA Foundation's Board of Directors, Chefs Daniel Boulud, Thomas Keller, and Jerome Bocuse, have also provided invaluable guidance, with further support coming from Team USA's coaches, Chefs Gavin Kaysen, Grant Achatz, and Gabriel Kreuther.
Follow Team USA on Twitter @BocusedOrUSA during their final days of preparation in Lyon, hashtag #NoSleepTilLyon, live during the competition, hashtag #GoForGold, and on Facebook at facebook.com/BocusedOrUSAFoundation.
Have a tip we should know? tips@mediaite.com